ECOtality Pioneers Chargers for Electric Cars
An innovative company relies on a green data center to support its efforts to roll out chargers for electric vehicles.
For many American motorists, the federal government's goal of putting 1 million electric vehicles on the nation's roads by 2015 seems overly optimistic. Home charging systems and a network of electric filling stations — all in a few years?
ECOtality is among the companies paving the way to this destination. The San Francisco–based business, which started in electric transportation in the mid-1990s, is putting the lessons of those years to work to lead a public-private initiative aimed at building the foundations of a national electric-vehicle infrastructure.
Called The EV Project, the initiative taps into ECOtality's electric transportation expertise to research how best to support widespread use of electric cars. Through The EV Project, ECOtality is installing its Blink residential and commercial chargers in 18 cities and metropolitan areas within six states and Washington, D.C.
ECOtality's Blink network is grounded in today's connected lifestyle. Billing its Blink chargers as "simply smarter," ECOtality is creating a charging network connected by the Internet and accessible through mobile devices to make driving EVs easier. "Smart, for us, is about being connected," says Charlie Carpinteri, ECOtality's director of IT and network operations. "We're definitely leveraging the Internet."
Supporting the Modern Electric Vehicle
ECOtality drew upon its experience with the first generation of modern electric vehicles to develop its Blink network. When General Motors introduced its EV electric sports car in 1996, ECOtality helped install residential and commercial charging stations for GM's two-passenger sports car, as well as other pioneer electric vehicles. That initial wave of modern EVs didn't catch on in the mass market, in part because the EV and other modern electric-car pioneers lacked uniform connectors. Still, ECOtality learned from that groundbreaking effort, says Colin Read, the company's vice president of corporate development.
When the Chevrolet Volt and Nissan Leaf roll out to the mass market over the next several months, the supporting infrastructure will look very different than it did the last time around. These new EVs feature charging cables that conform to a uniform SAE J1772 industry standard, which means this generation of electric cars will have the support of a universal public charging network that ECOtality and others are building.
Today's SAE J1772 connectors will plug into a home's typical 120-volt circuit — permitting what is dubbed in the industry Level-1 charging — as well as into commercial Level-2 chargers. Level-2 chargers use a 240-volt circuit that takes about half the time required by Level-1 chargers to power up an electric car, or between four and eight hours, depending on the vehicle.
ECOtality began installing residential and commercial chargers that meet J1772 standards in early 2011 under the auspices of The EV Project. The program is financed by nearly $115 million in U.S. Department of Energy grants matched by an equal amount in private investment. ECOtality expects to complete the installation of about 14,000 Level-2 chargers in Arizona, California, Oregon, Tennessee, Texas, Washington and Washington, D.C., by summer 2012.
Green Computing
The kind of growth ECOtality speaks of requires flexibility. CDW configured what's known as an Elliptical mobile data center for ECOtality that is energy efficient as well as adaptable. As part of the upgrade, ECOtality built a private cloud using Citrix virtualization technology, as well as new server hardware from HP.
The CDW mobile data center, which plugs into ECOtality's new core network infrastructure, delivers internal business services such as e-mail, customer relationship management (CRM), enterprise resource planning (ERP) and SharePoint collaboration services.
ECOtality's Carpinteri describes the mobile data center as a great way to scale up rapidly while using environmentally responsible technology. Like other internal computing products from Apple, HP and Lenovo that ECOtality uses, the Elliptical data center is considered green because the products have efficient cooling systems and reduce electricity consumption. "It's a companywide goal to be smart about energy consumption," Carpinteri says. "It's our passion."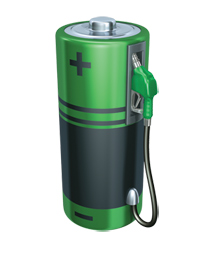 Learn more about the challenges that electric vehicles face in gaining mainstream adoption by consumers.
As vital as its physical adaptations have been, ECOtality benefits just as much from lessons learned 15 years ago on intangible issues. Over the years, ECOtality has grown aware of EV customer needs and expectations and is applying that experience to its web-based Blink smart-charging network. ECOtality's smart chargers are built around a web portal linked to the company's network either through wireless, Ethernet or cellular technology.
Both the residential Blink charger and the Blink pedestal charger include a 7-inch color touch screen that gives users access to network information.
The charger's digital dashboard is very rich and configurable. Carpinteri says the portal lets customers schedule their EV charging for times when power rates are low, and also lets them check the status of their EV charge or charging speed. Just as important, EV drivers can locate Blink charging stations and check availability online or through a new Blink mobile application for smartphones and mobile devices.
"The chargers of today reflect the lessons we learned in the past that deal with the need to enhance the customer experience with locational data, real-time charger statuses and the immediate ability to know when a charger has been ­vandalized or is out of order," notes Read.
Additionally, a significant improvement in customer service is on its way. ECOtality recently began mass production of its Blink DC Fast Charger, a 440-volt charger capable of fully charging an EV in less than half an hour. The first fast charger has been installed outside Portland, Ore., Read said.
Exactly how the fast charger will fit in with Level-1 and -2 charging equipment has not yet been determined, and ECOtality continues to manage, refine and improve its new commercial networks. Still, as Carpinteri says, "Blink is really about making it simple."
Steve Craft
More On