Cloudy Real Estate – BizTech Quick Take
BizTech Quick Take is our weekly digital tour of the web, serving up news and notes on IT and business that you need to know — and some things you'll simply be glad to know.
Buying a Cloud Solution Is Like Buying a House
Buying a house is probably the largest purchase most people will make in their lives. Which is why the process has so many built-in inspections, surveyors and agreements to make sure that everything goes according to plan.
One of the areas that needs such standards and regulations is security in the cloud, Cox says. He believes that the model outlined by the Open Data Center Alliance is one worth pursuing.
Under this usage model, cloud providers are going to need to prove security from the ground up. They will need to show their subscribers that the platforms hosting their workloads are booting up in a known, trusted state. And in addition to standard APIs, the alliance's usage model requests that cloud providers give their subscribers access to a secure, web-based interface that provides reports on the actual status of their cloud services.

This is definitely where we need to go. The capabilities requested by the alliance will give cloud consumers and corporate IT the security views and the reporting mechanisms they need to move applications to cloud environments. In other words, they will be able to move to the cloud with confidence because they have first located the survey markers.
Read more about security in the cloud in Cox's post on Data Center Knowledge.
Steve Jobs Isn't Gone, He's Just Taking a Back Seat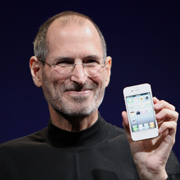 Credit: Matthew Yohe
Steve Jobs made the earth-shattering announcement that he'd be leaving Apple Computer on Aug. 25, 2011. The technology press has fired off an endless stream of articles analyzing, opining and speculating on the next moves for the former executive, but Mark Sumimoto takes the unique position that Steve isn't really leaving, he's just slowing down.
In his letter of resignation, Jobs did not ask to leave the company but rather asked to stay on as "Chairman of the Board, director and Apple employee". Technically, as CEO and board member, Jobs was essentially Apple's executive chairman. What he's done now is split that position between executive (CEO) and non-executive (chairman) and kept the latter half.

As chairman and director, he would no longer have hands-on control over the company. He would, however, be responsible for reviewing and evaluating the performance of the CEO. That means the person in his former job, presumably Tim Cook, would answer to Steve Jobs. He wouldn't be in charge of the company, but he'd be in charge of the guy in charge of the company.
All eyes will be on Apple over the next few months as the company transitions its CEO from Jobs to the company's former COO, Tim Cook. But as long as Apple's products remain innovative, there shouldn't be much room to complain.
Read more about Sumimoto's opinion on Steve Jobs' resignation as Apple CEO on GottaBeMobile.
IT Workers Need a Service Gene
The disruptive nature of the cloud computing evolution is changing the way IT models work. It's also having an impact the skill set that businesses expect from IT workers.
Chuck Hollis, global marketing CTO for EMC, notes that the shift to a service-oriented mindset needs to be made in the IT department's core; a change in its DNA, to be more exact.
But how many people do we have in IT who have that retailing and merchandising mindset as part of their DNA? Not many, it seems.
Look at it this way — if you're going to invest in creating and exposing competitive IT services back to the business, who's managing the storefront? Looking after what customers want? Ordering up the stuff that people seem to want, and getting less of the stuff that people don't want? Setting prices that the market will bear?

Any time you walk into a retail shop, you'll see evidence of that mindset. Any time you speak to an IT organization, you usually won't have it — you won't have it for serving other parts of IT, and you certainly won't have it for the business.
Learn more about the necessary shift in IT workers' DNA in Hollis' full post on his blog.
Adobe Releases PDF Creator for iOS
When it comes to reliable and professional document formats, Adobe's PDF is one of the more popular options. Most users are accustomed to receiving and sending PDF files on their mobile devices, but creating PDF documents is something that has mostly remained relegated to the desktop or notebook environments.
But with the Adobe release of CreatePDF, an official PDF-creating app for the iPhone and iPad, that could change.
Having already released an Android app, Adobe has shown it has a vested interest in improving mobile productivity. The official app from Adobe, which retails for $9.99 on the Apple App Store, has a few key features that will interest users who need to do document creation on the go. Small Biz Go Mobile has the details:
Features include:

- Creates PDF files that meet accessibility standards
- Preserves links, end notes, foot notes and creates bookmarks automatically in PDF files converted from Office documents
- Preserves Transitions and converts Multi-media Content for Power Point files
- Supports OpenOffice and StarOffice documents

CreatePDF supports Microsoft Word, Excel, PowerPoint documents, RTF, Text, and WordPerfect documents (for you old-schoolers). You can also convert all the major image file formats: (JPEG, BMP, PNG, GIF, TIFF), in addition to the popular Adobe-branded file formats: (Illustrator, Photoshop, and InDesign).
Read more about the new CreatePDF app from Adobe on the Small Biz Go Mobile blog.
Why Operational and Innovative Success Are Intertwined
When you think of business processes and operational best practices, innovation doesn't usually come to mind. At least, that's what Chris Peters, a director at Intel, thought when he learned about the company's IT Innovation and Process Excellence department.
But he was educated on the intricate link between innovation and operations during a company workshop. One key takeaway from the workshop: Coming up with the idea isn't necessarily the most innovative part of innovation.
Another aspect of the relationship between innovation and operations was presented by Chris Trimble, Professor at the Tuck School of Management. In his keynote "the other side of innovation", Chris articulated that coming up with the idea is not necessarily the hardest part of innovation – the hardest part is integrating new ideas into the existing business – effectively identifying the operational challenge of innovation.

With this new insight in mind, I find Jim's new team a very logical IT organizational change inside Intel IT and one that I'm excited to see unfold as these individual teams have had long successful legacies of driving operational excellence and innovation inside of Intel. I invite you to explore our 2010-2011 Annual IT Performance Report to learn more about our organization's best practices for creating business value and delivering a competitive advantage through IT.
To learn more about IT innovation and operations optimization, read Peters' post on the Open Port IT Community.
Sophos Warns About Morto Worm, but Doesn't See Cause for Alarm
A new computer virus can cast a fear-inducing shadow when it begins to spread across networks and computers, especially one with a name like morto (which means dead in Latinate languages such as Portuguese and Italian).
The worm spreads by exploiting weak passwords (such as "password") via Remote Desktop Protocol connections on Windows machines, reports the Naked Security blog. But Sophos, an antimalware vendor, hasn't seen widespread infection in its monitoring of the worm.
Although the Morto worm has received a lot of press attention we need to keep the threat in proportion. SophosLabs has received a very low number of reports of this worm being seen in the wild - other threats which are less exciting to the media are infecting considerably more computers.

Possible reasons for the low number of Morto reports may be that Sophos customers have chosen better passwords on their shares, or because Sophos products had detection relatively early on for this compared to some competitors.
Read more about the Morto worm on the Naked Security blog.
Looking Bad in Front of Others Can Be a Hindrance to Collaboration
Transparency, it's often said, is a good thing. But for some workers, transparency also means exposing flaws or weaknesses that they'd prefer remain hidden.
In a post for CloudAve, Jacob Morgan, a social media consultant for businesses, relays his experience in which workers at a company avoided using the newly installed collaboration tool for fear of looking bad in front of their peers.
One of the biggest risks that employees face is the fear of looking stupid in front of co-workers. It's blunt but it's true, in fact this is the exact wording that was used several times by employees who described their risks to me.

It's almost silly but at the same time it's very real, nobody wants to look stupid especially in front of co-workers. This was a problem that was experienced at Oce when they first rolled out their collaboration tools, nobody wanted to participate because of the fear of being judged and being perceived as being weak and stupid in front of colleagues.
This means that when IT departments consider rolling out new technologies, they should take stock of company culture and make sure that technologies the company deploys make the users feel as secure and comfortable as possible.
Read more about the hindrances to emergent collaboration in Morgan's post on CloudAve.
There's More Than One Way to Reach the Cloud
Cloud computing comes in a variety of flavors: public, private and public-private hybrids. Figuring out which style suits your business needs best is an imperative step in achieving success in the cloud.
Wylie Wong finds out how businesses are handling their transitions to various implementations of cloud computing, including how one business has transitioned over to Microsoft's cloud-based Office 365 platform.
Read more about the ways businesses are embracing the cloud in this article from BizTech.
Find great content from the bloggers listed here and other IT blogs by checking out our 50 Must-Read IT Blogs.
textfield
More On