Many Paths to the Cloud
Small businesses — whether hosting a single app or an entire IT infrastructure in the cloud — share deployment strategies and best practices.
While many businesses remain wary of cloud computing, the Independent Pharmacy Cooperative (IPC) saw it as a prescription for a stronger and more robust IT system.
During the past 18 months, the 85-­employee company in Sun Prairie, Wis., has increased its staff, added a new warehouse and distribution center in Phoenix, and opened several regional sales offices.
To support that expanded workforce, IPC created a private cloud and turned to a managed service provider to host it. The company doubled down on the cloud by turning to Microsoft's online customer ­relationship management offering to update its legacy CRM system, allowing remote employees to access customer data via notebooks, tablet devices and smartphones.
"The bang for the buck is huge," says IPC Network Engineering Manager Casey Compton, in reference to using a managed hosting provider to host the cooperative's ­private cloud. "I get a rock-solid, top-tier data center without having to make a major infrastructure investment, and I don't have to worry about cooling, power and physical security."
Subscribing to a CRM cloud service rather than installing the software in-house will save money when it comes time to upgrade the software, says Compton.
"We won't have to invest our time to make sure the upgrade is successful. Microsoft will take care of that in the back end," he adds. Cloud computing is a model for enabling convenient, on-demand access to a shared pool of computing resources that can be ­rapidly provisioned — and small businesses are just beginning to adopt it.
According to the CDW 2011 Cloud Computing Tracking Poll, 21 percent of small and medium-size businesses are maintaining or ­implementing cloud services, while 34 percent of small businesses and 48 percent of medium-size businesses are planning to adopt cloud services. The poll found that cloud users are reaping four main benefits: consolidated IT ­infrastructure, reduced IT capital spending, lower power consumption and energy costs, and remote access to applications and documents.
Most early adopters are turning to public cloud providers for hosted software, such as e-mail or web hosting. A smaller percentage of small businesses are using the cloud for infrastructure services, such as hosted virtual servers and storage, but adoption will increase over time as they become more comfortable with the cloud, says Raymond Boggs, vice president of small/medium business and home office research at research firm IDC.
Private vs. Public Clouds
IT organizations have multiple cloud deployment models to choose from, and each has its own benefits. In a private cloud, companies supply their own hardware and maintain the IT equipment in-house or at a service provider's data center. They control their infrastructure, and the data is protected within their own network.
Cloud Adoption and Savings Will Grow Over Time
Current cloud users expect cloud resources and applications to make up 26 percent of their IT organization's budget in two years and 34 percent in five years. By moving to the cloud, they expect to cut IT spending by 22 percent in two years and 31 percent in five years.
In a public cloud, employees connect to software and IT services via the Internet. Companies generally pay a monthly rate based on the amount of resources they use or the number of users they have. Public cloud providers manage the infrastructure and determine the level of security and redundancy.
IPC, which supplies pharmaceuticals and other supplies to 6,000 independent pharmacies, uses its own private cloud as well as the public cloud.
During the company's recent expansion, the existing data center at corporate headquarters no longer met users' growing needs, so IPC invested in some new IT infrastructure and turned to CDW's managed data center in Fitchburg, Wis., to build and host its private cloud.
IPC has virtualized 90 percent of its servers using VMware. A mix of IBM and Cisco Unified ­Computing System servers currently runs about 50 virtual machines, including the company's warehouse management system and ­Cisco's Voice over IP and call center software.
The infrastructure ­includes an EMC storage area network and Cisco routers, switches and firewalls. For disaster recovery, IPC replicates data to a backup SAN at its headquarters and has backup servers running its critical applications at headquarters and the Arizona warehouse.
Compton chooses to manage and maintain his own equipment, but during emergencies he can ask CDW's engineers to troubleshoot. And if he needs more bandwidth, CDW can increase network capacity.
This year, IPC outgrew its custom CRM application. With salespeople traveling to pharmacies across the country, the company turned to Microsoft's host-based CRM, called Microsoft Dynamics CRM Online, because it offers employees better uptime and access through multiple mobile devices.
Microsoft Office 365 Takes Business to the Cloud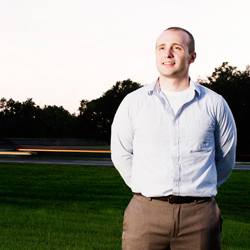 Credit: Jensen Hande
Elsewhere, Corporate Traffic, a logistics and transportation company based in Jacksonville, Fla., is a typical small-­business public cloud user. The 50-employee company manages its own servers and applications. But when it came to e-mail, it decided a year ago to subscribe to Microsoft's Business ­Productivity Online Services for its hosted e-mail service. And the company will soon transition to Microsoft's newly updated and renamed cloud service, called Office 365, which uses Exchange Server 2010.
Hosted e-mail saves the company money. When Corporate Traffic ran ­Exchange in-house, it paid more to power two clusters of four servers running ­Exchange every month than it pays to subscribe to hosted e-mail for every employee, says Mark Armstrong, the company's information systems manager. But the main benefits of hosted e-mail are ease of use and reduced IT management, he says.
Armstrong no longer needs to update and patch Exchange and maintain e-mail servers and user licenses. He also no longer worries about archiving e-mail and having enough storage for it. Microsoft handles all of that. Now, if he needs to add users, he just logs in and, with a few mouse clicks, adds new subscriptions.
"We are growing so fast," Armstrong says. "We haven't had to worry about putting too much stress on the servers and upgrading them or buying more software licenses. It definitely has saved us time."
Cloud services also allow small businesses to deploy IT resources that they could not otherwise afford, says Rob Nichols, director of development and online services for Allovus Design, a graphics and web design firm in Gig Harbor, Wash.
The company's 70 employees use ­Office 365 for Microsoft Office, SharePoint for managing and collaborating on documents and Lync for web conferencing.
The applications suite allows Allovus to communicate and collaborate with clients over the web. "As a small business, it allows me to act like a big one when it comes to those tools," Nichols says.
Security and Potential Pitfalls
Use of the public cloud comes with some caveats. Data security is a top concern. In fact, 41 percent of 1,200 IT decision-makers in business, government, education and healthcare say security concerns are holding them back from adopting or further implementing cloud computing, according to the CDW poll.
Perhaps that's why most IT managers polled would use the private cloud, where they can control the IT infrastructure.
Kevin Hurwitz, chief architect of software company Headspring in Austin, Texas, thinks the concern over cloud security is overstated. Public cloud providers can offer better security than most typical small businesses can establish for themselves, he says.
Most Popular Cloud Apps
Current cloud users operate the following applications in the cloud today:

E-mail: 50%
File storage: 39%
Office productivity suite: 37%
Web conferencing: 36%
Online learning: 34%
Video conferencing: 32%

SOURCE: CDW 2011 Cloud Computing Tracking Poll
"The economies of scale suggest that security should be better from cloud providers than on your own, because they can afford much more in the way of security," Hurwitz says. "A hosting company will have an industrial version of a firewall, while you have a small to mid-size business version."
Headspring, a 25-employee company that builds custom software, owns no servers and relies entirely on eight public cloud services to run the company and to build and test its software. The company uses both hosted software and infrastructure services.
To reduce risk, Headspring uses Secure FTP and HTTP Secure to encrypt data. Hosted software providers handle the encryption automatically, but when the company uses infrastructure services, it configures the encryption.
"The cloud is essentially the Internet, but as it travels through their routers, it's completely encrypted," he says.
A potential disadvantage of public cloud services is that they can suffer occasional network outages that can prevent businesses from accessing critical applications and data, Hurwitz says.
To ensure security and uptime, it's important to find a reliable cloud service provider, says IPC's Compton. When shopping for cloud providers, customers should ask about security, data backup and disaster recovery.
When a cloud provider manages software or services, customers sacrifice some measure of control. For example, when the provider conducts scheduled maintenance, services may not be available. In those situations, a company's IT staff must work with the cloud provider to ensure that maintenance times are scheduled after hours, Compton says.
Overall, early adopters say the cloud's benefits far outweigh potential negatives.
"We try to outsource anything that is not in our core competency and focus on what we are good at," Hurwitz says.
Darren Hauck
More On