Gristedes Bags Success with WLAN
Gristedes' enterprise wireless LAN upgrade enhances customer services to keep the supermarket chain competitive.
In densely populated New York City, deploying a wireless LAN can be challenging. Any given location might have as many as 1,000 neighboring wireless networks. And unreliable communication links can lead to data loss, dropped service and slow Internet access.
In this congested environment, Manhattan-­based Gristedes ­Supermarkets relies on an enterprise wireless LAN (WLAN) to provide its stores with secure, high-performance Wi-Fi communications. The chain uses Aruba Networks' Virtual Branch Network (VBN) solution for deliveries, inventory functions and digital sign connections.
"We initially enhanced our wireless network for PCI [Payment Card Industry] compliance and wireless inventory control," says Shawn Winters, IT infrastructure manager for Gristedes. "Now, we have added wireless-enabled digital signage at all 31 stores, allowing us to increase our personal engagement with customers."
Future plans call for the supermarket chain to deploy increasingly advanced applications over the wireless network. All the while, Gristedes is looking to provide an even better customer experience while using the advantages of an enterprise WLAN to significantly reduce the time needed to set up IT infrastructure at new stores.
Serving the Customer
Pricing, inventory and customer service are keys to success for any retail business. Nobody knows this better than Gristedes. The grocery retailer has served Manhattan since 1888 and has 28 stores in the borough, in addition to locations in Brooklyn, Roosevelt Island and Scarsdale in suburban Westchester County, N.Y.
Few environments are as competitive for supermarkets as Manhattan. Customers are demanding, store choices abound, and rent and other expenses are high.
Furthermore, most stores sit on the ground floor of high-rise residential and office towers on busy avenues. Often, there is no place for a traditional rear-entry loading dock, so food deliveries have to be made through the front door, usually as customers are streaming in and out.
In this crowded and sometimes disorderly environment, Gristedes wanted a no-fail wireless network that could handle the barrage of potential interference while bringing functionality to stores and convenience to customers. The company identified Aruba's wireless VBN as the best solution.
Great Expectations
The Aruba VBN is designed to connect remote workers with enterprise apps and resources. All configuration, management, authentication and reporting is done centrally by an Aruba controller in Gristedes' data center. This eliminates replicate routing, switching and other services at each remote location.
Replacing appliances and wide area network (WAN) links with Aruba's remote access points was easier, faster and less expensive than Gristedes expected; what the company gained with the implementation also surpassed their expectations.
For example, Gristedes combines the Aruba VBN with Honeywell Dolphin wireless barcode scanners and in-house "direct store delivery" software to receive and log product deliveries into its inventory system in a single step.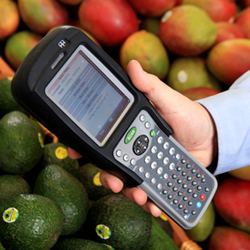 The chain also uses the enterprise WLAN for inventory maintenance and price checking using the NCR Advanced Checkout Solution's Mobile Retail Manager. Such capability is especially important in New York, because stores can be fined if prices at the register don't match advertised pricing or prices shown on product shelves.
In addition, the enterprise WLAN allows Gristedes employees to use tablets and other wireless devices to check shelf pricing and product inventory to ensure that stores are stocked correctly.
Speed, compliance and reliability aren't the only reasons Gristedes deployed the Aruba VBN. The company's management team views the wireless upgrade a future-proofing investment that will add value to its customer service.
For example, Gristedes uses Wi-Fi–connected digital signs throughout its stores. The signs are geared to highlight in-store promotions while displaying news, weather and stock quotes. The digital signs also generate incremental advertising revenue for the stores.
Wireless: Today and Tomorrow
Before it upgraded to the VBN, Gristedes had a scattered deployment of Wi-Fi­ communication solutions across its supermarkets. "We had a hodgepodge of different vendors' access points," Winters says.
Deploying Wi-Fi was challenging, particularly with all the competing wireless network installations in the residential apartments and offices above the stores or in nearby buildings. "We had a lot of performance issues," Winters recalls.
Other performance issues came from the stores' wired multiprotocol label-switching (MPLS) WAN connections. In the dense urban environment of New York City, where construction-related outages are frequent, such connections are often less reliable than they should be.
"Last-mile infrastructure in Manhattan can be a nightmare, with store connections going down for hours or days when it rains, snows or for a whole variety of reasons," Winters says. "A DS3 [digital signal 3] issue on the East Side of Manhattan could take out six stores, and we would just sit there waiting for it to be fixed."
For credit card transactions, the ­Gristedes stores would send data over MPLS to the data center at headquarters and then out to the Internet through the central router. When MPLS connections would go down, credit card transactions and customer checkout would slow to a crawl.
Using the split-tunneling feature of Aruba's RAP-5WN remote access points, Gristedes provides both MPLS and direct public Internet connections to each store. If the central connection to the Internet goes down, stores can continue running credit card transactions over direct Internet connections.
The RAP-5WN also offers 3G backup Internet connections, so even if wired store connections go down, transactions continue wirelessly.
"We now have an absolutely seamless backup infrastructure for the store when we're having wired connectivity issues," Winters says. "Employees just continue checking people out. They don't know whether they're on a 3G or wired connection."
"Many businesses can bypass MPLS altogether and use the VBN solution over inexpensive generic T-1 lines or DSL," says Manish Rai, Aruba's director of retail solutions. "This can reduce capital expenses dramatically in addition to deployment time."
With all the nearby wireless networks, security can also be an issue. This has made achieving PCI compliance challenging for Gristedes.
"We were using the WEP [Wired Equivalent Privacy] for security, which was insufficient for PCI compliance," Winters says. Aruba provides industrial-strength Wi-Fi Protected Access II (WPA2) wireless security across all Aruba access points, enabling easy deployment of a security standard that complies with PCI.
Aruba's solution can also detect when rogue access points have been plugged into the network, which is another requirement of PCI compliance.
"The Wi-Fi solution helps ensure PCI compliance, and it provides seamless 3G backup for our critical store systems," says Chris McCrae, CIO of Gristedes and Red Apple Group, the supermarket chain's parent company.
Ease of Management
Management of its wireless infrastructure is an important issue for Gristedes. When the chain had many different brands of access points and no central management capability, installing, configuring and troubleshooting numerous individual access points was a significant drain on its lean IT staff.
"The access points were running several different management modules, and many products were no longer supported," Winters says. "Having 35 individual access points to manage and troubleshoot just didn't make sense. We really needed a more cost-effective solution."
With the VBN, which tunnels over the Internet to a centralized Aruba 6000 Mobility Controller, Gristedes can configure and manage all of its access points from a single console at the data center. "It's so easy to make changes on the fly," Winters says.
This helped Gristedes to roll out 31 new wireless-connected digital signs in three or four days. "I could add the SSID [service set identifier] to the controller and set up the security settings in under two hours," Winters notes.
"Then I could give the units to the field guys, and they could just bring them to the stores, plug them in, associate them, and be up and running," he adds. "Prior to that, I would have to log in to 35 different CLIs [command line interfaces] and set them up individually. In terms of labor cost, we probably saved thousands of dollars on that installation alone."
Winters also has been impressed with the wireless network visibility the Aruba AirWave Management Platform offers. "I can see what users are connected to the controller and get a dashboard and reports that run nightly," he notes.
"I can also see graphs on utilization, and locate particular scan guns and wireless devices in the stores." Winters likes the fact that he can get all this information through the Management Platform rather than a CLI.
:Paul S. Howell
More On