Review: Lenovo ThinkPad X1 Yoga Notebook Proves Perfect for Business Travelers
Packed with safety features without giving up performance, 2-in-1 is a great option for professionals who travel.
For business travelers in need of a rugged, secure, easy-to-use notebook, the Lenovo ThinkPad X1 Yoga is worth consideration.
On the usability front, in addition to the usual trackpad below the keyboard, the device offers a two-button stylus, with built-in holder, a touch screen that works with fingers as well as the stylus, and a TrackPoint nub on the keyboard. Users can also connect a mouse via the USB 3.0 or USB-C ports or through built-in Bluetooth 4.1.
At barely more than 3 pounds, the device is easy to carry, sacrificing an optical drive and expandable storage to achieve its portability.
Battery life is rated at 15 hours. In my testing, that was possible while using Microsoft Office products and Wi-Fi. Although graphics-intensive applications reduced battery life by several hours, enough power remained to watch several movies on a cross-country flight.
The 360-degree screen flip makes it easy to use the notebook as a tablet, handy for viewing documents. And the Intel 620 graphics ­provide enough horsepower for almost any business purpose.
Think Safety First for the Lenovo ThinkPad X1 Yoga
Security includes both Trusted Platform Module 2.0 and a fingerprint reader. The fingerprint reader is easy to use — simply lay a finger on the sensor, and recognition is immediate. The TPM chip encrypts data automatically and supports the emerging FIDO (Fast Identity Online) system that makes it more difficult for hackers to intercept credentials or data while a user is logged in to a website such as Facebook.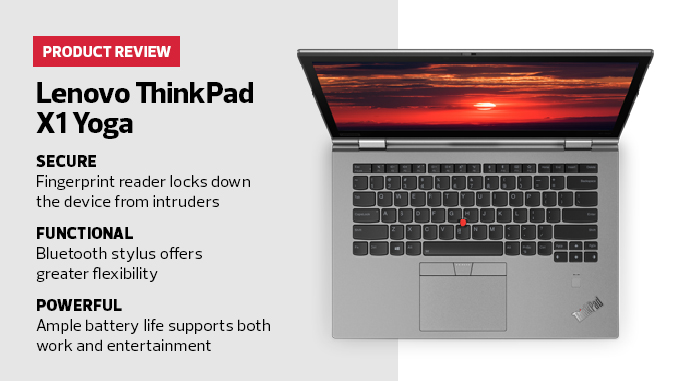 FIDO allows users to authenticate their credentials by clicking a dedicated button on the keyboard. FIDO support is built into the X1 Yoga, so there's no need for a USB dongle to get the system to work.
For remote management, the X1 Yoga supports the Intel Management Engine, which allows secure remote management via a number of management ­servers, such as Microsoft's System Center Configuration Manager or ManageEngine ServiceDesk Plus. These products use the IME interface to connect securely to a managed PC. This means that administrators in the central office can apply remote updates to the operating system, applications and device drivers while maintaining a high level of security.
The Lenovo ThinkPad X1 Yoga
Processor: Intel Quad-Core 15-8250U
Display: 14-inch IPS touch screen with 360-degree flip design
Memory: 8GB 2133 LPDDR3 SDRAM
Weight: 3.09 pounds
Hard Drive: 256GB NVMe SSD
Security: Fingerprint reader
More On