Review: Netgear's ReadyNAS 314 Helps Small Businesses Expand Storage Easily
Netgear's four-bay desktop storage system comes with features more typical of enterprise network-attached storage.
In the rush to grow, many small ­businesses often initially overlook storage. It's an out-of-sight, out-of-mind thing — until more capacity is needed (immediately) or a ­disaster occurs (with no backup).
The Netgear ReadyNAS 314, a four-bay desktop network-attached storage device, can provide expandability and advanced features — like snapshotting and cloud replication — normally only found in enterprise NAS, at a manageable price even for a small company.
Each ReadyNAS 314 comes with four bays that can support any standard 2.5- or 3.5-inch disks. Mounting drives is extremely simple. I just lined them up and slid them into place until they locked.
The ReadyNAS automatically formats new drives and adds them to the available storage pool; no user intervention required. The drives are also hot-swappable.
The base station has a robust processor suitable for its assigned task, and enough RAM to keep read and write speeds humming along without pause. Its four bays mean an SMB can slowly expand as needed, up to 16 terabytes.
Delivering Enterprise Features to Small Businesses
Unlike many entry-level NAS devices, the ReadyNAS 314 is a lot more than just a featureless box. It comes with the ReadyNAS 6.0 operating system, the same one as Netgear enterprise models. In many ways, the 314 is simply a smaller version of those enterprise units but with a lower maximum capacity.
The OS gives users access to snapshot options to protect data in the event of an emergency. To test this feature, I designated the data on my network that was most critical, and the 314 then queried (or took a snapshot of it) at regular intervals so that it was constantly updated. Upon simulating a disaster, I wound back the clock on the 314 and was able to restore every file from before the event. There is no limit to how many snapshots a user can configure.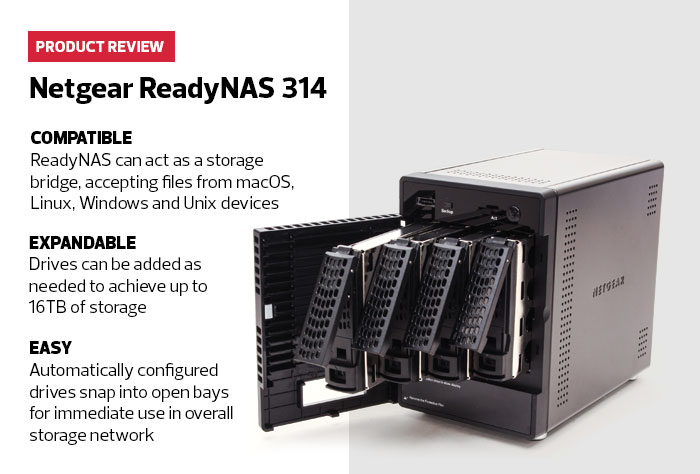 SPECIFICATIONS: Processor Intel Atom 2.1GHz dual-core, RAM 2GB, Free Drive Bays 4, Maximum Capacity 16TB, Dimensions 5.3x8.1x8.8 inches, Weight 8.75 pounds
The 314 also includes ReadyCloud, which will let a systems administrator manage multiple ReadyNAS units through an easy-to-navigate web interface. It's possible to designate vital data for backup offsite, either to another unit or to the cloud for redundancy.
Frankly, few entry-level units offer features comparable to those of the ReadyNAS 314. It would be a great asset for a small business to securely back up its files, and as part of a networked environment as the business expands.
Locking Down Security with the ReadyNAS 314
Users looking to add protection to their storage backup can activate both anti-virus and encryption options that come installed on the ReadyNAS 314.
For anti-virus, go into the settings tab and enable it (the default setting is 'off'). Give the unit a little time to make sure that it has the most updated signature file, which it will report in the same interface. Thereafter, every file that anyone puts on the device — or which loads on it automatically through a snapshot — will be scanned for viruses.
During my test-drive, I reached into my virus zoo and grabbed a couple remote access Trojans (RATs) that the lab sometimes uses for testing AV programs. I tried to drop them directly on the ReadyNAS 314 and also add them by first placing them in a folder that the device snapshotted.
In each case, the result was the same: Every RAT was detected before it could be written on to any drive. Alerts popped up in the user interface and warnings were also emailed to the designated systems administrator. I could then choose to delete the files, keeping them from infecting the drives.
ReadyNAS encryption works in much the same way, but is even more invisible to users. Every file that moves to the ReadyNAS 314 is first encrypted. That way, even if the entire device were stolen, as it's not very large, thieves wouldn't be able to get any of the information.
During my testing, I did notice a slight delay reading and writing files when both AV and encryption were enabled, but the dedicated Atom processor and 2 gigabytes of RAM kept this minimal — and likely invisible to most users. Unless examining those processes with a stopwatch, they probably will never notice that this important, advanced protection is keeping watch over their files.
Netgear