SDN Offers SMBs a Path Toward Flexibility and Agility
Businesses that make even an initial foray into software-defined environments can reap efficiencies.
Now that virtualization has revolutionized server and storage operations in the data center, networks present the next ripe target for extracting efficiency from IT operations.
Software-defined networking decouples the network control plane from the data plane, enabling abstraction of resources and programmable control. The beauty of SDN architectures is that they yield open, interoperable networks that can be dynamically adjusted. The tangible payoffs include greater agility, control and cost savings.
Network technology leaders such as Brocade, Cisco Systems, HP, Juniper Networks and VMware, among others, offer cost-effective SDN solutions. While this is still very much an emerging market, now is the time for IT managers to begin evaluating their networks for the next step of virtualization.
Reaping Large Benefits from SDN 
The return on investment in SDN can be swift and substantial. My colleague Rita Younger — national practice lead for ACI and SDN — worked with one company that achieved a one-year ROI of more than 400 percent by pulling its public cloud resources back into its own data center and using SDN to run a private cloud.
"If you look at some of the research, it's much less expensive to operate in a private cloud environment," she says.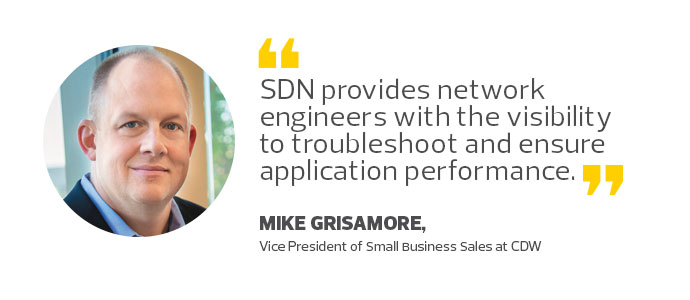 We've seen that when working with small and medium-sized businesses. Some organizations have simplified their network environments by deploying SDN equipment from a single vendor — particularly in cases where the IT teams wanted to create flexible, scalable architectures to support bring-your-own-device initiatives.
SDN can give an IT team a real-time, 360-degree view of the company's network and free it from having to manually enable ports to accommodate devices and users.
Key Considerations Before Adopting SDN
As organizations aim to support more real-time applications (think voice and video) while maintaining a keen focus on security, network virtualization and automation can help. SDN provides network engineers with the visibility to troubleshoot and ensure application performance.
It's for those reasons that many businesses are exploring SDN or implementing the technology, according to the "2016 State of the WAN Report" from Webtorials.
SMBs should begin their SDN journeys by gaining familiarity with the technology. Various implementation options abound, including solutions based on the OpenFlow protocol and Cisco Application Centric Infrastructure. Talk to your hardware and software providers and learn about their future product roadmaps.
As you evaluate the business case for network virtualization, consider how many network devices your IT team manages and the potential for reducing operational expenditures. Another key consideration should be whether the business has skilled engineers who can deploy and administer SDN overlays. (It might make sense to deploy cross-functional IT teams that can collaborate and help each other learn about this evolving technology.)
The next step would be to develop a transition strategy that takes advantage of existing network investments. As you refresh hardware, it's important to ensure that whatever equipment you purchase will work in your evolving environment.
That calls for focusing on scalable, elastic solutions capable of accommodating new network technologies. Look to open standards to avoid vendor lock-in and seek to automate as many network functions as possible.
While many SMBs may not yet be ready to make the journey to virtualized networks, it's not too soon to begin planning. Because one day, SDN will become as pervasive as server virtualization throughout the enterprise.
Maria Kazanova/ThinkStock