How to Be a Virtualization Maestro in Your Data Center
Three tech chiefs from SMBs share tips on using virtualization management and orchestration tools to improve ROI.
When John Burks became the IT director at BLR, he moved quickly to transform an infrastructure composed entirely of physical servers to one that is now 99 percent virtualized.
The revamped IT environment provides enhanced agility and scalability for BLR, a company based in the Nashville, Tenn., suburb of Brentwood that offers employment, safety and environmental compliance solutions. But as he scaled out this virtual environment, Burks soon realized he needed to layer on management tools.
"Virtual machines run very differently from physical servers," he says.
To orchestrate the performance of the data center, Burks uses Veeam One monitoring, reporting and capacity planning software. "Veeam One helps us allocate our resources," he says. "It tells us where we can safely take away unused resources like CPUs or memory, or where we need to add them. It helps us perform the balancing act needed to maintain performance while we reduce expenses and capital investment."
Gaining Greater Visibility 
BLR avoided a common mistake many companies make — virtualizing IT resources but continuing to use the tools and processes appropriate for physical servers, says Cliff Grossner, senior research director for data center, cloud and software- defined networking at IHS Markit.
"The virtual world represents a new day that requires a fresh look at things," Grossner says. "Companies should be looking for tools that provide maximum dashboard visibility into their systems. Do they know where their workloads are? Can they see how their applications are performing? Can they drill down and understand the things they have to address to improve performance?"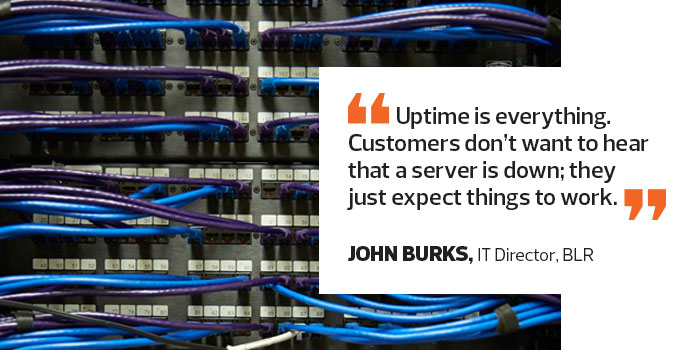 In choosing monitoring and management tools for their virtualized environments, organizations should evaluate how compatible each product is with the specific technologies in the data center — both now and for business and technology plans in the future, he says. "The goal should be to future-proof for a very long time," Grossner says. "You don't change these systems easily. It requires acquiring new skill sets and more investment, neither of which should be taken lightly."
Virtualization management technologies can yield significant return on investment, but only if the organization makes prudent choices based on how the tools will pay dividends, he says. "If you're investing in these products, you should know in advance where you'll be getting the ROI," Grossner says. "You learn that by making sure you have the right fit with your current needs and future plans.
Poised for Growth 
Using Microsoft Hyper-V software, BLR virtualized its IT environment to lay the groundwork for what it expects to be a period of rapid growth, Burks says. Adding Veeam One for data center monitoring, as well as Veeam Backup & Replication, lets the compliance shop optimize the efficiency or availability of applications while keeping staff levels low, he says.
"Uptime is everything. Customers don't want to hear that a server is down; they just expect things to work," Burks says. "We now have about 150 virtual servers that we're managing with two guys. With the monitoring and automated backup and recovery, we know what's going on and can fix problems quickly."
The detailed information from the Veeam One software also influences decisions about which services can be managed efficiently on-premises and which can be safely moved to the public cloud, Burks says.
"Many companies like ours don't like to put sensitive resources in the public cloud but worry about being able to manage them on-premises," he says. "I value being in control of our IT environment, and with the right tools, I have the visibility I need to be able to sleep at night."
Tracking Virtual Environment Performance 
Managing a virtualized data center means more than keeping services up and running, says Donald Wilkins, IT director of Navicure. The Duluth, Ga.–based company provides web-based claims management and patient payment solutions that aim to help healthcare organizations increase revenue and reduce costs.
A longtime VMware shop, Navicure relies on vRealize Operations Manager for a comprehensive view of its IT infrastructure and for information that the IT staff needs to plan for the future.
"Virtualization, if not managed correctly, can spiral out of control. You can consume your resources faster than you can procure new ones," Wilkins says. "Management tools help you get to the root of problems, but also provide historical and trending data about how your environment is performing and how you're consuming your resources."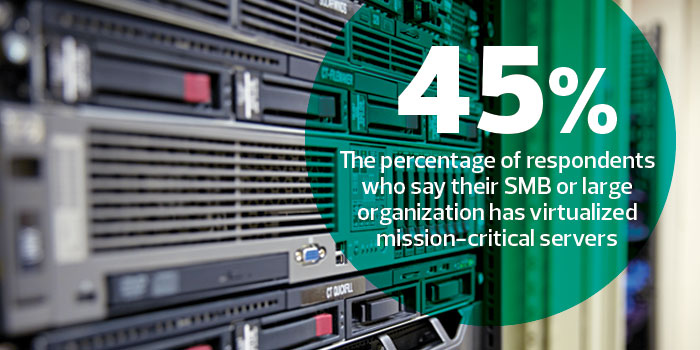 SOURCE: HyTrust, "2016 State of the Cloud and SDDC Study," May 2016
The visibility that vRealize Operations Manager offers across both the virtual and physical components of the infrastructure is crucial to getting to the bottom of performance issues, says Wilkins. Tools that focus only on the virtual environment can't help solve problems related to how host physical servers or storage media interact with virtualized resources.
Virtualization management tools represent significant investments, especially for SMBs, and organizations should choose carefully for their specific requirements, Wilkins says. Before buying any management tool, companies should perform a rigorous proof of concept in their own environments with their own staff knowledge base, he says. He also recommends participation in beta testing as a low-risk approach to trying new technologies.
"Don't look at cost as the most important factor; look at how well the tool meets your needs first," he says.
Clear ROI from Virtualization 
At OSIS, a Cincinnati nonprofit that provides technology for community health centers across the country, the IT staff uses several management tools, each selected to fit the function it does best, says Rob Frilling, infrastructure team lead and senior virtualization engineer.
OSIS's infrastructure is currently virtualized using VMware, with 600 virtual machines running on 33 Hewlett Packard Enterprise physical servers. Frilling and his colleagues use vRealize Operations Manager to rightsize the environment, ferreting out wasted resources and finding instances of underprovisioning, he says.
"vRealize Operations Manager gives us a snapshot of our capabilities at any given time, and information about how we can make our operations run more optimally," Frilling says. "With our previous virtualization platform, we just assigned resources to our systems, crossed our fingers and hoped we were right. Operations Manager lets us see the results."
Integration of HPE OneView provides a way for the IT staff to correlate data from vRealize Operations Manager with the storage environment, and with information from the hardware side of the infrastructure. For managing backup and replication in the virtual environment, OSIS uses Veeam Backup Enterprise Manager, Frilling says. The IT team also uses the auditing capabilities of the VMware login site for troubleshooting problems or tracing changes in the system.
"I'm not sure what the financial ROI is for the tools we're using," Frilling says. "But I would say that we've gotten a tenfold return in management, efficiency and performance."
Matthew Furman