EMC World 2016: A Combined Dell and EMC Aspires to Build the Future of IT
In EMC President Joe Tucci's last EMC World keynote, he hands the baton to Dell CEO and Chairman, Michael Dell.
It's the end of an era, but it's also the beginning of a new one.
Dell, in case you haven't heard the news, is acquiring EMC and its federation of enterprise technology companies, which includes VMware and RSA. It's being called "the biggest tech deal ever" as the acquisition is said to carry a $67 billion pricetag.
Joe Tucci, EMC chairman and CEO, gave his last keynote address at the 2016 EMC World conference in Las Vegas on Monday, and during his keynote he officially handed the baton to Dell Founder and CEO Michael Dell.
"It's been an incredible journey for me," said Tucci.
The moment was sobering, and as he ended his speech the audience gave him a standing ovation. But right after his final goodbye, Tucci wasted no time in priming the audience for Michael Dell's address. When Dell stepped out, he graciously thanked Tucci and EMC for their loyalty and expertise, then quickly went into laying out his vision for the future of Dell and EMC, which includes a new company name: Dell Technologies.
"We are creating the next great technology company for all of you. To pave the way for your future. A future that will be defined by technology that is so powerful that it's hard to even comprehend what will be possible," said Dell, who noted that he felt it was important to hold on to the family name.
That future is one in which businesses are digital and agile IT is the norm. Dell refers to this "digital revolution" as "the next Industrial Revolution."
"We are at the very beginning of the Internet of Everything," said Dell. "We are staring into a future of infinite possibility. And together, we're going to develop the technology that will make those possibilities a reality. From the edge, to the core, to the cloud."
Dell's rhetoric was sweeping and soaring throughout his keynote address. His words punctured the air with unbridled optimism and his belief in technology's transformative powers never wavered. If technology is a religion, Michael Dell was its loyal prophet.
"We're building a company that can take you to the future," said Dell. "By combining Dell with EMC, we can become the essential technology infrastructure for the next Industrial Revolution."
Meet the New Dell-EMC Family
In a world where all business is digital, every company essentially becomes a software company, said Dell. That means the data center shifts from being a back-office operations tool, as it has been in traditional business environments, to the heart and soul of the modern business.
This shift in the role of the data center and enterprise IT is why the Dell-EMC partnership makes so much sense, said Dell. EMC has been a dominant force in supplying enterprise storage technology, while Dell has operated at the small-to-mid-tier range. With the combined holistic IT offering — from the client side to the server side and all the way up through the cloud — the new company is poised to expand the reach of both corporations significantly.
Maintaining the family of brands approach EMC has developed, EMC will eventually be rebranded to Dell EMC, while the other brands in the federation, such as VMware and RSA, will retain their current names for now.
An Integration That Creates Value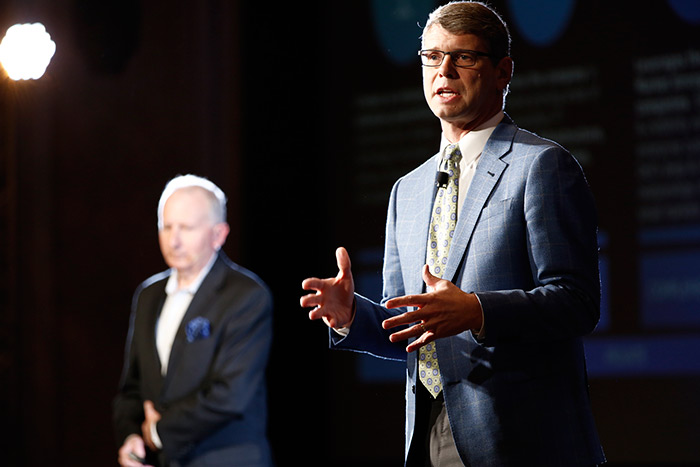 Dell's Rory Read and EMC's Howard Elias address the media during a Q&A session at EMC World.
The merger between Dell and EMC is so large that its undertaking is like nothing that the key players — even those experienced in mergers and acquisitions — have worked on before. To ensure that the merger went as smoothly as possibly, Dell and EMC appointed integration leaders on both sides.
During a presentation and Q&A session with the media, Rory Read, chief integration officer at Dell, and Howard Elias, president and COO of global enterprise services and Dell-EMC Integration Leader at EMC, explained how the planning and integration of the combined company was progressing. A dedicated team of 60 people has been forging ahead, plotting out major decisions over the past six to eight months.
"We're actually right on schedule in terms of this integration," said Read.
Although many at Dell and EMC are eyeing the day when the transaction closes and the two tech giants become a combined entity, Read and Elias are looking well beyond the pending birthday of Dell Technologies.
"Day one is not the end of anything. It's the beginning of our new company," said Elias. "We need to make sure we're ready on day one with all of our activities but then [that] we're building that next great company for the next era of IT."
EMC
More On