Spring Cleaning: Refresh Tips for the Data Center
Three financial businesses offer advice on optimizing computing operations.
No one at the Credit Union of New Jersey remembers when local device networking cables were first connected to a telephone junction block in the data center. Nor did anyone know how the tangled mess grew to span two such boxes and eight feet of wall space before finally reaching CUNJ's core networking switches at its Trenton offices.
Fortunately, thanks to a recent remediation project, the crisscrossing thicket is no more.
Let's face it: Many data centers could use some form of spring cleanup. Whether it's cable management, consolidation, virtualization or just making better use of an existing footprint, initiatives that transform cluttered server rooms into efficient spaces can pay big dividends.
At CUNJ, the tidy-up began with modernizing its core network switching architecture. "We consolidated 13 legacy switches, each with its own power supply, into one Cisco Catalyst C4510R+E switch with dual Supervisor 7E engines and redundant power supplies," says Michael Thomas, the credit union's information systems manager.
The switch consolidation opened up rack space while simultaneously reducing the burden on CUNJ's cooling resources. "Previously, we were reaching the limits of our cooling system," Thomas says. "We were experiencing regular alarms and service calls."
60%
Decrease in required rack space after the IT team at the Credit Union of New Jersey modernized and consolidated switches
To maximize the organization's new Gigabit Ethernet switches, CUNJ also upgraded to Belkin Cat6E snagless network cables and swapped out the inappropriate telecomm junction boxes with a dozen 48-port Tripp Lite 2U patch panels.
"We've not only reclaimed all of the wall space, but we also have a detailed cabling diagram from the local LAN port to switch ports for all devices," Thomas says.
"Before, we lacked documentation," he continues. "When we needed to troubleshoot a device, it could take us 10 to 15 minutes just to determine which ports were involved." That's a lot of wasted effort for a three-person IT staff tasked with supporting seven locations scattered throughout several municipalities.
"Now, we're spending less time putting out fires and more time delivering new products to our staff and member customers," Thomas says.
One such initiative will bring a new Voice over IP telephone system online. "That project requires delivering Power over Ethernet to the desktop," he says. "Our new switch supplies all the power and performance we need."
The change has affected end users too. "Previously, we could only transfer files between our SAN and desktops at speeds of 40 megabits per second to 60Mbps," Thomas says. "Now, we're getting transfer speeds of between 450Mbps and 750Mbps.
Virtualizing Reclaims Space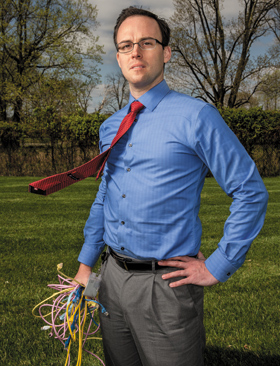 Photo: Bill Cramer
"We've not only reclaimed all of the wall space, but we also have a detailed cabling diagram from the local LAN port to switch ports for all devices," says Michael Thomas, Credit Union of New Jersey's information systems manager.
It's a similar story for Covina, Calif.-based Simplicity Bank, where the data center was bursting at its seams until a consolidation and virtualization effort eased the strain.
Simplicity's project started with moving from 24 legacy unmanaged switches to 10 managed Brocade switches. At the same time, the bank's seven-member IT staff organized network cables and labeled each one using a Panduit Hand-Held Thermal Transfer Printer.
"We cleaned up the spaghetti mess," says Paul Madore, IT manager at Simplicity, which has eight locations within a 350-mile area. "In combination with enterprise-class labeling, troubleshooting is much easier."
Next on the list was vir­­- tualizing 50 physical servers, half at the corporate office and half at a remote business continuity site.
In addition to seven new physical servers and VMware ESX software, Simplicity invested in two 50-terabyte Oracle Pillar Axiom storage area networks, one for each location. "Now we're running four physical servers in our main data center and three at our disaster recovery site," Madore says. "In all, we're supporting about 80 virtual servers, with 40 in each location."
Switch consolidation and server virtualization "opened up a ton of rack space and allowed us to remove some empty racks," he says. The net result: a 25 percent increase in valuable data center floor space.
Simple Steps Pay Dividends
Establishing a virtualized environment helps Simplicity meet its business goals. "Our growth strategy includes introducing innovative technologies to our customers that will help us stand out from the competition," Madore says. "To do that, we need to spin up servers quickly."
Previously, the company might have had to wait weeks for a physical server to arrive and be installed; now, the IT staff can provision a virtual server in a matter of hours.
What "spring cleaning" project in the data center is your company's top priority?
50% Establish better backup and disaster recovery practices
16% Consolidate data operations
14% Move to a 100 percent virtualized environment
14% Adopt cloud services in key business areas
6% Adopt remote managed support services
SOURCE: CDW poll of 284 BizTech readers
The efforts of yet another financial serv­ices organization, the Boeing Employees Credit Union, demonstrate that even small adjustments can generate big value. For BECU, headquartered in Tukwila, Wash., the key was deploying existing resources more effectively.
"We're vigilant for anything that we can start doing, do differently or stop doing," says Kyle Welsh, vice president of BECU technology services. "We look for anything that can make us more efficient from either an operational or financial perspective."
In this case, server sprawl at the 42- location organization was eating up data center floor space and placing stress on data center air conditioning systems because of design and cooling inefficiencies.
BECU's numerous HP ProLiant servers were spread throughout the data center on multiple racks, Welsh says. Consequently, many racks were only partially full.
To improve space utilization and reduce cooling needs, the 90-member IT team began consolidating servers onto as few racks as possible by filling a rack and then moving on to the next empty rack, Welsh says.
"As we reinstalled, we ensured that airflow would go through servers rather than around them," he adds. "As a result, we've been able to turn up the temperature in our data center, which saves on cooling costs."
The IT team estimates the reorganization also reclaimed nearly a quarter of the facility's floor space by filling racks to capacity.
"In addition to using our physical space more effectively, we also have a much better idea of how much space is available," Welsh says. "That wasn't the case before."
Bill Cramer
More On