March Madness: Stadium Technology Comes in with the Assist [#Infographic]
Major upgrades in venues hosting the NCAA tournament marry the in-game fan experience with cutting-edge, interactive technology.
It's college basketball fans' favorite time of year again: March Madness.
After all of the brackets have been filled out, the faces have been painted and the jerseys have been thrown on, one of the most thrilling things fans can look forward to as they head to the stadiums for this year's NCAA Men's Basketball Championship games is some serious tech.
As part of the sports industry's push to lure fans off the couch and into the stadium, many sports arenas are racing to equip their venues with hundreds of access points (APs) to ensure connectivity for in-stadium Wi-Fi networks, roll out digital signage that provides real-time game updates and pulls in social media activity, and serve instant-replay access beyond the big screens down to the individual mobile device.
We took a look at some of the technology in place at sports arenas hosting the NCAA Men's College Basketball regionals and the Final Four and broke out highlights around mobile and wireless technology and digital signage in our infographic "The Big Dance Goes High Tech."
Cowboys Stadium, which is hosting the South Regional, is ahead of the pack in terms of access points installed. The stadium boasts a whopping 884 APs, according to a case study from CDW.
The Georgia Dome recently displayed its wireless might by supporting 8,880 users on it's Wi-Fi network during the NFL's 2012–2013 NFC Championship game.
Fans attending the West Regional at Staples Center will be treated to a virtual buffet of video content, thanks to the venue's rollout of Cisco's StadiumVision system. This cutting-edge system allows for on-the-fly content updates across the venue's 375-plus displays.
Learn more about the technology awaiting fans at Lucas Oil Stadium, Cowboys Stadium, Verizon Center, Staples Center and the Georgia Dome, below.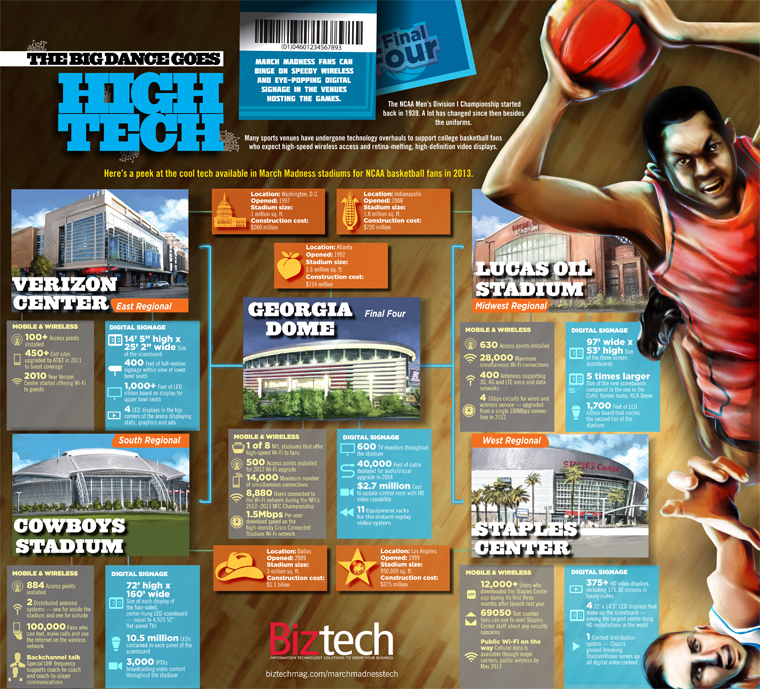 textfield
More On