What Is the Role of Printers in a Digital World?
In this era of the digital office, companies find cost-effective ways to tune up and manage their printing environments.
Recent headlines have touted the rise of the "digital office" — a term that has almost nothing to do with creating an established workspace and everything to do with using new technologies for anywhere, anytime access to information.
But assuring employees can work where and when they need to can have a profound impact on a tried-and-true component of most traditional work settings: the printing and imaging infrastructure.
Today's professionals are rethinking their attitudes about when and what to print. And that is having ripple effects throughout organizations of all sizes and types, whether commercial businesses, government agencies or educational institutions.
Still, it seems the print industry is here to stay and maintains its vital role in a robust communication strategy. Smart managers realize that they must reach beyond digital to keep personal connections with customers, constituents and users. The smart thing is to do it judiciously and cost-effectively.
Have Tablets Made Printers Obsolete?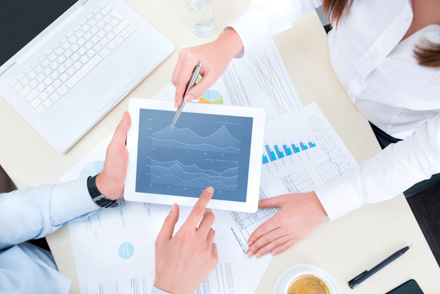 Credit: iStockPhoto/ThinkStockPhotos
Ubiquitous mobile computing — spurred by the rise of tablet computers, bring-your-own-device initiatives and cloud-based content — is making hard-copy output obsolete in some cases. Business people, government staffers and educators can easily shun paper in favor of viewing content on sharp and colorful computer screens held in the palms of their hands.
Another prime catalyst for altering attitudes about printing, not surprisingly, is the desire to save money during volatile economic times. Reducing the number of printers an organization maintains, and the volume of consumables necessary to keep them running, can lead to significant cost-cutting opportunities.
Together, these considerations mean people aren't hitting the print button as much as they did previously. Print volumes have been steadily declining for the past four years, a trend kicked off by the start of the economic downturn, according to research by the Photizo Group, an industry research and consulting company. Last year, a combination of subdued economic activity, constricted staffing and cost-saving strategies drove a 3 percent drop in printing.
But no matter how tied today's office workers become to their mobile devices, printers will always be necessary (or at least for quite some time into the future). The ongoing need for hard-copy reports, promotional materials, contracts, forms and handouts won't disappear anytime soon.
The question is: What combination of output devices and management best practices can serve these needs and keep costs as low as possible? Fortunately for IT managers, the current crop of efficient, networked single- and multifunction printers (MFPs), along with cost-saving print-management services, offer some clear-cut answers.
"There's no question that organizations are becoming more cognizant of the cost of their print environments," says Robert Palmer, director of office document services at the Photizo Group. "This is leading enterprises to not only better understand what they spend for printing, but to change what hardware they buy and how they control what they print."
Printer Performance at a Good Price

Credit: iStockPhoto/ThinkStockPhoto
Stand-alone and multifunction printers remain at the core of content creation in today's digital office. The models on the market offer low prices and productivity-boosting features, including fast print speeds and high-duty cycles, to serve evolving office needs.
Because these devices come with built-in Ethernet network capabilities, organizations can judiciously place devices in an office and reduce the number of personal printers sitting on individual desktops. Plus, the increased print quality of color models has led many organizations to bypass print shops for brochures and similar content, which avoids high margins on minimum print runs that can create unnecessary costs.
The attractive price-performance benefits of networked printers are evident in today's leading models. For example, reliable single-purpose, monochrome laser printers now sell for well under $500. The HP LaserJet Pro 400 M401dn printer comes in at near $400 but still includes a number of features formerly considered high-end, such as speeds of up to 35 pages per minute (ppm). And for today's evolving digital offices, the unit includes built-in wireless connectivity and HP ePrint, which make it easy for smartphone and tablet users to print documents or access business applications from the printer's color touch screen.
Even color laser printers are now available at sub-$500 prices. The $400 Xerox Phaser 6500N provides 600-by-600 dot-per-inch (dpi) resolution at up to 24 ppm for monochrome and color output. It comes standard with a USB port, so mobile users can print content stored on thumb drives.
Declining prices are making larger workgroup-class laser printers more affordable, too. The Lexmark E462dtn, at about $750, prints at high-quality 1,200-by-1,200 dpi and provides two 250-sheet paper inputs, plus a 50-sheet multipurpose feeder. A numeric keypad lets users control access to print jobs via password codes, while alerts about low toner avoid unproductive downtime.
Power Up with Multifunction Printers
Analysts say that an increasing number of organizations are turning to MFPs for workgroup printing. The reason? MFPs do much more than just print documents. Their bundled capabilities allow copying, scanning and faxing all within a single unit. Once an expensive option, many workgroup-class models are now available for less than $1,000.
MFP cost efficiencies have materialized for a number of reasons. The first is reduced upfront capital investments; bundling multiple printing and imaging capabilities into a single unit means offices need fewer devices. Further savings come from the reduced purchase of ink and toner cartridges — as well as from decreased power needs when individual units are eliminated.
Modern MFPs also offer high-quality output. Organizations can see print-shop quality color documents from models such as the HP LaserJet Pro 400 color MFP M475dw. At just over $900, it offers 1200 dpi and up to 21 ppm, along with both wired and wireless network connectivity.
The Lexmark X546dtn Color MFP runs at up to 23 ppm for color or monochrome printing and faxing. It also offers high-speed USB connectivity and 10/100BASE-TX Ethernet networking.
Although a little pricier, the Xerox Phaser 3635MFP/X Laser has the horsepower for high-volume workgroup applications. The MFP's duty cycle runs up to 75,000 pages per month. The device delivers monochrome prints up to 35 ppm and 600 dpi. It comes standard with automatic two-sided output, a 60-sheet duplex automatic document feeder and a built-in stapler.
Goodbye Unnecessary Printing Costs
The digital office may not herald the end of hard-copy printing. But it may spell doom for costly printouts that quickly find their way to the recycling bin, not to mention unmanaged printing environments that give aid and comfort to excessive costs. Organizations that understand these forces need only find the right combination of networked devices and managed print services to thrive in this new digital age.
Jack Hollingsworth/Photodisc/ThinkStockPhotos