Incubator 1871 Nurtures Chicago's Growing Startup Scene
The Chicago startup incubator helps entrepreneurs get the right supplies and make key connections.
After leaving IBM to start his own business, Erik Severinghaus heard about space in Chicago's Merchandise Mart — the world's largest commercial building — where a handful of digital startups were trying to make a go of it. People found the space through word of mouth and dubbed it Fail Cube, after the startup philosophy that success comes through failure and quick rebuilding.
"It became the worst-kept secret," says Severinghaus, founder and CEO of SimpleRelevance, which helps businesses personalize their online communications. "Its reputation preceded it."
Less than a year later, Fail Cube morphed into 1871, a small-business incubator that opened its doors last spring to 100 digital startups. With 50,000 square feet of office space on the 12th floor of the Merchandise Mart, the public-private nonprofit offers fledgling businesses everything from desks, Internet access and meeting space to beer and pizza on Fridays. "It takes a lot off my mind," Severinghaus says.
The amenities are great, but 1871's real value is in the networking and educational opportunities it offers. Members pay between $125 and $400 per desk for month-to-month leases and have access to educational seminars, business advisers, mentors and networking events.
1,250
The number of business incubators in the United States, up from 12 in 1980
SOURCE: National Business Incubation Association
"That's the value-add," says Kevin Willer, president and CEO of the nonprofit Chicagoland Entrepreneurial Center, which operates 1871. In addition to the startups, the space is occupied by four local universities; three venture capital firms; a traditional incubator that offers a four-month program; and Code Academy, a web development course that runs for three months. Illinois Gov. Pat Quinn and British Prime Minister David Cameron are among 1871's high-profile visitors.
Those who lease space in 1871 are surrounded not only by powerful connections, but also by "incredibly smart entrepreneurs" who encourage each other, Severinghaus says. "It creates a friendly rivalry where we're all pushing each other, helping each other. We talk a lot about creating the opportunity for serendipity."
The 1871 Approach
But the creation of 1871's startup community had more to do with hard work than with chance. During meetings last year to discuss opportunities, entrepreneurs agreed there was little available office space in the city for startups. So Willer and Steven ­Collens, senior vice president at The Pritzker Group, a private investment firm, set out to solve that problem. They visited some of the top incubators in the country for ideas before opening 1871. Today, the Chicago-based group serves as a model for other cities looking to start small-business programs.
"The big difference between what ­others have done around the country and what we're doing here is this is a nonprofit, an economic development tool," explains Willer. Unlike traditional incubators, 1871 doesn't take equity in companies.
"If we're competing with anyone, we're competing with other cities around the country," Willer added during an interview in July, just days after Chicago's Mayor Rahm Emanuel gave a speech at 1871 about creating a home for new businesses.
As for the name, 1871 was the year of the great ­Chicago fire. "The real story is not the fire, but what happened after the fire," says Willer, adding that modern Chicago was built by people who started over. "So we named this space to reflect that spirit of innovation. We could be literally changing the face of the Chicago business world."
Wide Open Spaces
The 1871 layout is open; reserved desks cost $400 a month and shared desks, $250 a month ($125 for nights and weekends). There are 100 assigned desks and about 300 shared spaces, where it's first come, first served.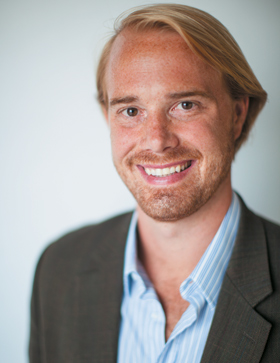 Photo: Todd Winters
"It creates a friendly rivalry where we're all pushing each other, helping each other. We talk a lot about creating the opportunity for serendipity," says SimpleRelevance CEO Erik Severinghaus.
"It's like a giant coffee shop," says Matthew Furlong, founder of ViderExto, an 1871 interactive marketing company that produces and displays high-definition engaging experiences of premier destinations on its web platform.
The 1871 space has an actual coffee shop, as well as a meeting space that holds 400 people. "It has everything you could ever need in one place," says Erica Bethe Levin, cofounder and editor in chief of CheekyChicago, an online lifestyle magazine and one of the startups at 1871. "It's so big that there are scooters all over the place," she says.
The nonprofit's build-out and daily management is funded by The Pritzker Group, a state grant and corporate donations. "CDW was one of our best supporters early on," Willer says. "They've been doing a lot of work in the Chicago startup community. It's really great to see their commitment to entrepreneurs in Chicago."
In addition to the workspaces, businesses in 1871 have access to conference rooms with projectors, 70-inch flat-screen TVs, printers, copiers, networking equipment and other essential office equipment donated by CDW. Beyond that, CDW's goal, say Sales Director Adam Weiss, is to help startups determine what they need when they move to their own spaces, such as hardware, software, hosting and data center space.
"We're doing more than just giving money," Weiss says. CDW's goal is to help companies get started and even patronize them or introduce them to customers. "If we find leads for them, we'll pass them along. What I really want to do is help these companies make it in business."
CDW first became involved with 1871 through ­Account Manager Edgar Mendoza, who attended regular startup community events. Knowing CDW's history, he wanted to support Chicago-area startups.
"We were started in Chicago in 1984 out of Michael Krasny's garage, and today we're a $9.8 billion company," Weiss says. "It's time to give back."
CDW is a logical partner for 1871, adds Willer. "The story of CDW is a great entrepreneurial story in the city of Chicago. It's great to see entrepreneurs helping entrepreneurs. That's what this is all about."
The People Who Call 1871 Home
Before starting ViderExto, Furlong had a great idea, ­business know-how and experience. But because he had just moved to Chicago, he didn't have local contacts. When he heard about 1871, he thought it was a great idea. On Furlong's second day there, Willer, a former sales ­executive at Google, decided his old colleagues needed to see what Furlong was up to, so he arranged an introduction.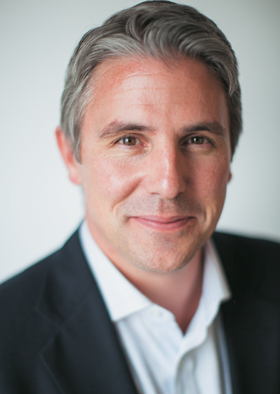 Photo: Todd Winters
"The big difference between what ­others have done around the country and what we're doing here is this is a nonprofit, an economic development tool," says Kevin Willer, CEO of the Chicagoland Entrepreneurial Center.
"The biggest challenge for startups is reaching the right people," Furlong says. But at 1871, digital marketing companies like his have access to big-name corporate executives as well as lawyers, accountants and IT professionals.
That access has been invaluable to Levin, who, along with CheekyChicago cofounder Jessica Zweig, hosts real-world events for women, such as fashion shows, a Top 10 Cheeky Chicks of the Year awards ceremony and a membership program that gives exclusive perks at local businesses.
The 4-year-old company's founders had been renting space from a larger business. "We were at the point in our business where we were like, 'What's next?'" At 1871, they've met people who have helped answer that question. CheekyChicago plans to expand next year to San Francisco and possibly New York or Austin.
"We're creative people," says Levin, "but we're not in that venture capital world." To get feedback from those who are is invaluable, she says.
Within 24 hours of announcing 1871's name and location in January, the founders received 50 applications. By early July, more than 500 companies had applied. The 1871 team reviews the applications, meets with candidates and passes along their information to an independent panel of nine entrepreneurs who review and approve the applications.
Because of the popularity and selectivity of 1871, having space there is almost a stamp of credibility, says Severinghaus. Clients who might otherwise be reluctant to work with a startup have more confidence in them.
Willer predicts that the average tenancy will be about six months. Some stay as long as 12 to 18 months. "A lot of these businesses will fail," he admits. "That's just the nature of this world."
The average company at 1871 has between two and five employees. "If you get to 10 people, this is not the right place for you," Willer says, adding that none have flown the coop yet, though a few are getting close. "Which is kind of the plan — you actually want people to leave. That is a good measure of success."
Todd WInters;Kaarsten/Veer
More On