What to Expect from EMC World 2012
The 11th annual IT conference promises to be a great forum of technology, thought leadership, discussion and good times.
This year's EMC World is all about the transformation of people, businesses and technology. Big data is changing the way we use technology and helping us better understand how we use technology. Cloud computing and virtualization are lightening the IT load in countless ways, and mobility is taking office productivity and giving it legs.
The show, which is being held in Las Vegas and is set to run from May 21-24, features several thought-provoking speakers and panel discussions. We've highlighted a few important ones for your convenience.
Speakers You Don't Want to Miss
Who: Joe Tucci, EMC CEO
When: Monday, May 21 at 11 a.m.
Why: When Joe talks, IT listens. As the CEO of EMC since 2006, Tucci has been around for much of the groundswell in technology surrounding cloud computing. And he's helped ensure EMC's emergence as a leader in cloud operations. His general session will kick off the show on Monday morning and set the tone for EMC World. Expect to hear the company's grand vision, big ideas on technology and information about new EMC products during Tucci's session.
Who: Rick Devenuti, EMC President, Information Intelligence Group
When: Monday, May 21 at 4 p.m.
Why: As a leader in enterprise content management, EMC's Documentum platform has served many businesses well. But group president Rick Devenuti is promising to show Docmentum in a "whole new light." This could mean great things are in store for the company's enterprise content-management solution.
Who: Paul Maritz, VMware CEO
When: Tuesday, May 22 at 8 a.m.
Why: When people think of virtualization, VMware is one of the first companies that comes to mind. The company knocked the socks off of the IT industry with its hypervisors in the late 1990s and early 2000s, and they've only continued to blossom since being acquired by EMC. Paul Maritz will offer vision and insights on the latest virtualization technologies, which is critical for IT departments all over as the number of virtual machines deployed continues to grow.
Who: Rich Napolitano, EMC President, Unified Storage Division
When: Wednesday, May 23 at 8 a.m.
Why: While EMC has grown into more than just a storage company, the company still does storage really well — so well, in fact, that EMC's storage solutions have continued to win awards. Rich Napolitano will be offering an overview of the EMC storage division and explain how the company's storage solutions can integrate with VMware environments.
EMC World: A Social Media Event
EMC is putting on a huge event for the 10,000-plus attendees in Las Vegas, but they haven't forgotten about people interested in tuning in remotely. Last year, the company launched the Bloggers' Lounge and hosted a Foursquare contest, but this year's show will be even more plugged in.
In addition to the Bloggers' Lounge, EMC World is launching a new Recognition, Award and Motivation Program (RAMP), which promises to recognize activity at the show and showcase attendee expertise and thought leadership.
If presentations and slides make you groan, then you'll be thrilled with BUZZ Talks, a brand-new component to EMC World that allows for unconferencing. The discussions are loose, informal and, most importantly, free from slides. The BUZZ Talks will be hosted by senior executives and IT gurus on a wide range of topics, and they will be open to remote participation through the EMC Community Network.
Lastly, social media will have a physical presence at the show, as the conference will highlight social media conversations through its live analysis engine on large plasma screens throughout the venue. You can expect to see trending topics, photos and insightful commentary on the screens.
Adam Levine Gets IT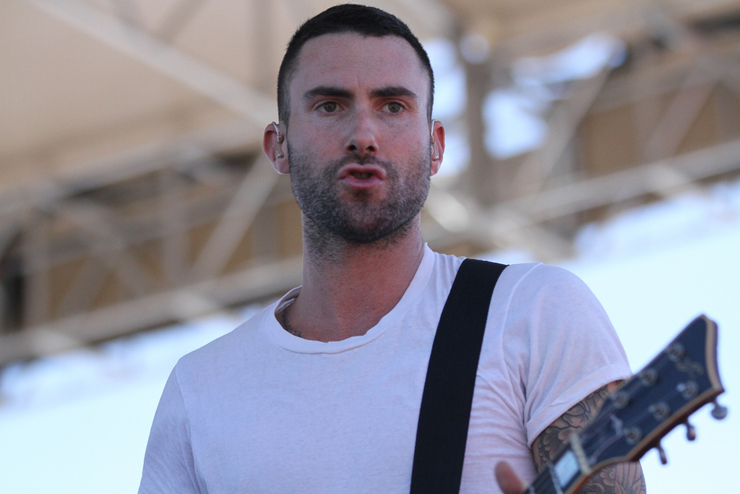 Photo: aewang
While you can look forward to talking shop with all of your IT peers and colleagues at EMC World, the most important thing about this year's EMC World is the fact that you'll get to bust a move like Mick Jagger.
Maroon 5 will play a concert for EMC World attendees on May 23 at 8 :00 p.m., and you can bet your Hadoop that they'll be playing their hit single, "Moves Like Jagger."
Snagging this kind of star power is no small feat, and hearing that you'll be in the same vicinity as lead singer Adam Levine is likely to make you a very popular person among friends, coworkers and any teenage girls in your family. So pack your dancing shoes and get ready to back your infrastructure up to lead singer Adam Levine's dance-rock groove.
textfield
More On