EMC World: Morpheus and Maroon 5 Get IT — Day 3
EMC CIO Sanjay Mirchandani speaks at EMC World in the morning, while thousands of IT workers go wild for Adam Levine in the evening.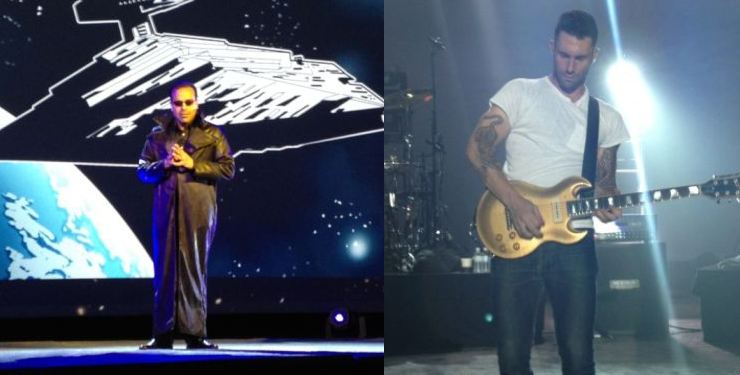 Photos: EMCSymmetrix and NeoScapeInc
EMC CIO Sanjay Mirchandani (left) dressed as Morpheus during his EMC World keynote. Adam Levine of Maroon 5 (right) rocks out during the show's customer appreciation concert.
EMC's CIO Sanjay Mirchandani is ready to turn on the lights and take shadow IT head on. The EMC executive outlined his vision for IT as a Service at EMC World 2012. He believes serving the needs of the business is the best way to combat the rogue use of IT by coworkers.
In an effort to reinforce the importance of the personal and corporate transformation he was proposing, Mirchandani came out dressed as Morpheus from The Matrix movies. Wait a minute, is this a technology conference or a comic book convention?
All costumes aside, Mirchandani's point about IT aligning itself with business is one that seeks to affirm the important role of IT within any organization. And judging by the reaction of conference attendees, his message was well received.
But Mirchandani wasn't the only one flexing some star power at EMC World. Adam Levine and his band, Maroon 5, performed at the show's customer appreciation event in the evening and got some fists pumping with the band's upbeat set. Fortunately, no one at the conference held the band's new old-tech single "Payphone" against them either.
We scoured the tweets to find more news, fun facts and images from EMC World. Take a look at what we found.
Red Pill or Blue Pill? EMC's CIO Talks Up An IT Revolution
Sanjay "Morpheus" Mirchandani. Artwork by Neoscape #emcworld twitter.com/NeoscapeInc/st…

— Neoscape (@NeoscapeInc) May 23, 2012
#emcworld sanjay is talking new wave IT to a packed crowd. Awesome keynote.

— Nina Hargus (@NinaHargus) May 23, 2012
Sanjay says People are the new security perimeter at #emcworld building a path to the future will involve the user experince with the cloud.

— Ken Claussen (@KenClaussen) May 23, 2012
EMC CIO Sanjay- built an "applicaiton integration cloud", interesting architecture has Data in the middle and aapps as peripherals #EMCWORLD

— Clive Gold (@clivegold) May 23, 2012
EMC CIO "Our IT professionals don't want to write reports and do repeditive tasks, they want to add value" #EMCWORLD

— Clive Gold (@clivegold) May 23, 2012
#EMC CIO Sanjay Mirchandani helps to Transform the IT Professional #EMCWorld twitter.com/gottstogo/stat…

— Gregory Gotts (@gottstogo) May 23, 2012
#EMCWORLD EMC CIO says they have a "no big iron" policy -- only x86 in their infrastructure.

— Rick Lloyd (@RickLloyd) May 23, 2012
Maroon 5 Gives IT the Moves Like Jagger
Best quote from @adamlevine tonight: "I've never played a concert where there was more men than women, but we'll make it work" #EMCworld

— ☣ Sean Thulin ☣ (@sthulin) May 24, 2012
@Adamlevine @maroon5 awesome concert at #emcworld, had to fight past all the guys to get to the front but it was worth it!

— Liz Hersh (@Liz_Hersh) May 24, 2012
Moo ooh ooh ooh ooh ooh ooh ooh oves like backup. #EMCWorld Adam get a backup freedom tat ! Join the evolution. twitter.com/guychurchward/…

— guychurchward (@guychurchward) May 24, 2012
Im at a free Maroon 5 concert. I work for an awesome company. #EMCworld twitter.com/beingboston/st…

— Timmy O (@beingboston) May 24, 2012
Well played EMC World. Well played. #emcworld twitter.com/NicoleSweens/s…

— Nicole Sweeney (@NicoleSweens) May 24, 2012
Nice SocialCam video footage by @stu at last night's #EMCworld concert with Maroon5 Maroon 5 socialcam.com/s/RbPPS7b7

— CDW Corporation (@CDWCorp) May 24, 2012
Virtual Machines, Automation and Storage
There is a new VM created every 6 seconds. Human birth rate in the US is a new baby every 8 seconds. The matrix is coming. #emcworld

— mjl135 (@mjl135) May 24, 2012
It's all about FLASH deconstructed #EMCWORLD yfrog.com/nwl2zqxj

— kiratech (@kiratech) May 24, 2012
The ideal scenario using Flash storage by @stevedupe #emcworld twitter.com/ergonzalez/sta…

— Ernesto Gonzalez (@ergonzalez) May 24, 2012
#EMCworld ESG Steve gets going. Good stuff! twitter.com/sathishece/sta…

— Sathish Murthy (@sathishece) May 24, 2012
Only half of the people with high end arrays actually use the auto tier capabilities built into the system #emcworld

— Scott Kahler (@boogabee) May 24, 2012
textfield
More On