Food Trucks: Where Mobile Payments Meet Mobile Food
Mobility is not only transforming the way we communicate, it's also changing the way we eat.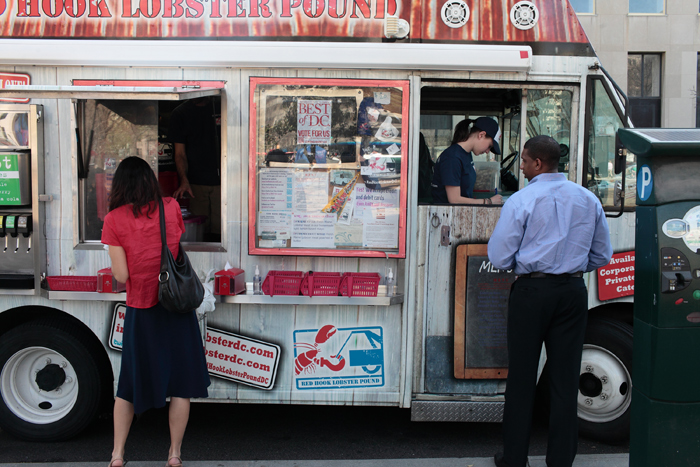 Customers place their orders at the Red Hook Lobster Pound food truck in McPherson Square in Washington, D.C.
Photo: Ricky Ribeiro
Gourmet food trucks have exploded in popularity in Washington, D.C., with customers flocking to the diverse army of restaurants on wheels for unorthodox and ethnic flavors not typically found in nearby brick-and-mortar restaurants.
$1 trillion
The dollar amount of mobile transactions forecasted for 2015
Source: The Yankee Group
In the past, food trucks were cash-only operations. But today, they wield tablets and smartphones capable of accepting credit card payments and e-mailing receipts to customers at the point of sale.
"We figured that given our price point, we were going to have to accept credit cards from the beginning," Doug Povich, co-owner and operator of the Red Hook Lobster Pound Truck says. "People really get excited when they come to the truck and see us using the latest technology. It's not the typical POS that they see in a restaurant."
All signs point to mobile point-of-sale as the transaction of the future. According to the Yankee Group, global mobile transactions grew to $241 billion in 2011, and are expected to reach $1 trillion by 2015. Povich estimates that roughly half of Red Hook's patrons pay with credit cards.
"Just like we've seen this wave of smartphone and tablet adoption, I think now people are starting to ask, what more can I do with this device?" says Walt Rivenbark, AT&T vice president of mobile apps for SMB markets. "That's where I think people are really looking for applications and things that can help them run their businesses better."
Growing Pains of a Restaurant on Wheels
Doug Povich says he got into the food truck business in 2010 after his cousin, Susan Povich, and her husband, Ralph Gorham, built a successful business in New York City selling lobster rolls at neighborhood flea markets and local fairs. Seeing the appetite for lobster rolls on the go, Susan approached her cousin about setting up shop in Washington, D.C.
He agreed to the venture, but brought on his friend Leland Morris, a formally trained culinary professional, to help him run the operation. The fresh lobster rolls were a hit with the D.C. crowd from day one.
"The first challenge was apparent the first day, when we opened at Farragut Square in D.C. and had probably 300 people in line waiting for us. It took about two and a half hours to serve all those people, and we were just shocked by the huge demand for this stuff," Povich says. "So we had to ramp up much more quickly than we had anticipated."
Part of the company's growing pains included figuring out the best way to handle electronic payments for its $15 lobster rolls, which many customers chose to pay for with credit cards. But traditional point-of-sale systems were not friendly to the food truck business model, Povich says.
"When I started back in 2010, I looked at traditional POS terminals. They were really designed for fixed restaurants and did not make sense from a cost standpoint and also from a form factor standpoint," Povich says. "We didn't have room in the truck for a computer terminal with a screen and all of that."
So Povich turned to the iPad and Square, a leading mobile-payment processing application. The unit helped his business process payments with ease. Square offers businesses a free card reader, which is attached to a tablet or smartphone device through the audio jack. Businesses can then accept payments from customers at two rates: For card-present transactions, merchants pay 2.75 percent. For card-not-present transactions, the rate is slightly higher at 3.5 percent and a 15-cent fee.
While accepting electronic payments proved to be a relatively simple setup, making sure they had access to consistent wireless connectivity hasn't been so easy.
"We go to about 40 different locations over the course of a month between D.C., Maryland and Virginia. The wireless signal is not always the best, especially when we're in an urban canyon with buildings all around. We often have had to have multiple wireless devices in order to maintain the connection," Povich says.
One way for food trucks to deal with wireless dead spots is to have a Wi-Fi backup. For instance, businesses that use AT&T can tap the carrier's 30,000 Wi-Fi hotspots throughout the country, such as those at Starbucks, Rivenbark says.
For food trucks with connectivity woes, the future looks a little brighter as carriers continue to roll out 4G LTE networks. This isn't because the boost in download and upload speeds improves on a 4G network, but because they'll be transmitting at a lower frequency of 700 megahertz, compared with the 850MHz frequency AT&T's 3G network travels on, Rivenbark says.
"That 700MHz is not only going to go farther, but it's going to penetrate buildings deeper," Rivenbark adds.
The Mobile and Virtual Cash Register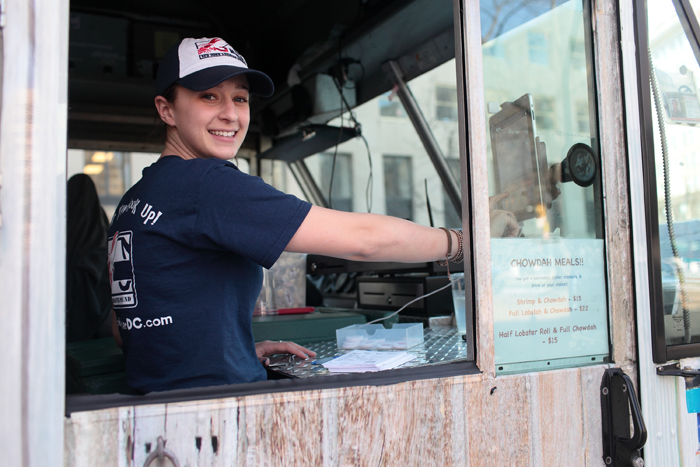 Red Hook Lobster Pound Cashier Rose Pride takes a customer order on the mounted iPad in the food truck.
Credit card transaction processing isn't the only use of tablets and smartphones at the point of sale; there's actually a larger shift toward using mobile devices in place of traditional registers.
"I was just at the mall a couple days ago, and one of the stores in the mall, a boutique retail store, had an iPad with an Intuit card reader, and they'd loaded all of the inventory in the store in the Intuit app," Rivenbark says. "We're starting to see that in traditional retail as a fast and inexpensive way to do point of sale."
Rose Pride, a cashier for Red Hook, uses a mounted iPad in the truck to manage payments.
"It keeps track of both credit and cash transactions, so it makes things easier for my boss when he's doing inventory. It's really convenient," she says.
Mobile payment processing is still maturing, but it's already proved its efficiency. With the Intuit card reader, businesses can integrate their mobile-payment transactions with QuickBooks, which unifies bookkeeping, Rivenbark says.
"One of the things that our small business customers like about the Intuit solution is that it automatically feeds into their QuickBooks, so you can just go at the end of the day and see what you sold, how many receipts you got, and you can manage your profit and loss with your QuickBooks on a daily basis," he adds.
The ROI of Mobile Payments
Cool factor aside, there's a real benefit to deploying a mobile-payment solution with tablets and smartphones. For food truck operators, one of the advantages is the ability to switch sales tax rates as the truck moves from state to state.
"We're in three separate jurisdictions — Northern Virginia, Maryland and D.C. — and they each charge separate sales taxes," Povich says. "It's very easy on the iPad Square system to change the tax rate. We might be in D.C. one day and the next day the same truck would be in Virginia. It's important to make sure you're charging the correct tax."
For businesses that have never processed credit card payments before, tapping into an electronic paying customer base can prove to be especially fruitful.
"They get the cash faster, they don't have to worry about invoicing, and they can cut down on activities that they would do around their office worrying about collections," Rivenbark says.
Mobile-payment systems can also help businesses go green, because many of the mobile payment apps give customers the choice of getting their receipts by e-mail or text message.
"It's easy for the customer to understand. We can e-mail them their receipts if they want, so it's green, and we like that," Pride says.
The Future of Mobile Payments
One of the big buzzwords in mobile-payment processing is near-field communication (NFC). Google's mobile-payment product, Google Wallet, is perhaps the most popular example of this technology at work.
34 million
The number of NFC-enabled phones shipped worldwide in 2011
Source: ABI Research
Users can store their credit card information on a mobile device of their choice, and through radio technology, transmit any payments from an NFC device to an NFC reader without ever having to swipe the credit card or punch it in manually.
Square offers something similar, with its Card Case app, but it uses GPS technology, not NFC.
While NFC's frictionless-payment future seems bright, the downside is that merchants must acquire NFC readers and consumers have to buy NFC-enabled phones, Rivenbark says.
For Povich and his lobster roll business, the efficiency of mobile payments plays an important role in the growth of his operation.
"We're not like a restaurant, where we can have three cashiers lined up taking orders simultaneously. It's quite an operation," Povich says. "We measure statistics like rolls per minute (RPM), and we need to maximize that. So any seconds that we can save in the ordering process trickle through to our speed."
Ricky Ribeiro