Review: NetApp AFF A700s Is a Scalable Storage Solution for Growing Businesses
This high-performance storage appliance supports expanding businesses.
When it comes to storage, scalability is king. Every business wants to grow — usually, the faster the better — and that means an organization's storage needs to grow too. Yet few vendors can deliver a storage system that can scale from a handful of users to thousands.
Enter the NetApp AFF A700s, which retains the simplicity of a small system while scaling to a multinode cluster that can support thousands of users.
The four-unit rack-mount chassis accommodates dual controllers, 24 solid-state drives and eight PCIe expansion slots for additional network ports. It can support 8-, 16- and 32-gigabit-per-second Fibre Channel, 40 Gigabit Ethernet, and both storage area network (SAN) and network-attached storage (NAS) functionality.
The included ONTAP data management software makes it simple to start with one system and add as many as 24 in a cluster, then expand with cloud-based storage for cheaper replication targets and offsite fault tolerance or to support workloads that migrate from the data center to the cloud.
NetApp specifies as many as 7 million input/output operations per second and an effective capacity of up to 155 petabytes, with a maximum raw capacity of 39PB in NAS configuration, or 19.8PB raw and 77.8PB effective in SAN configuration. Of course, effective capacity depends on both compression and deduplication, which can boost results exponentially — up to five or six times raw capacity, depending on the type of data being stored. A single node can hit 600,000 IOPS, with an effective capacity of up to 13PB.
The configuration of a single A700s is simple, and adding it to an existing cluster is straightforward, given the large number of options. The installation wizard makes the initial configuration easy for any administrator familiar with data storage concepts, even without NetApp training or support. Both are available online or over the phone.
MORE FROM HEALTHTECH: Could your business use a chief data officer?
Intuitive User Interface Simplifies Storage
Creating volumes and setting up replication was very intuitive, with a well-developed user interface. The same can be said about enabling compression and deduplication, and enabling SAN protocols over Fibre Channel or iSCSI, or NAS protocols using NFS or CIFS/SMB.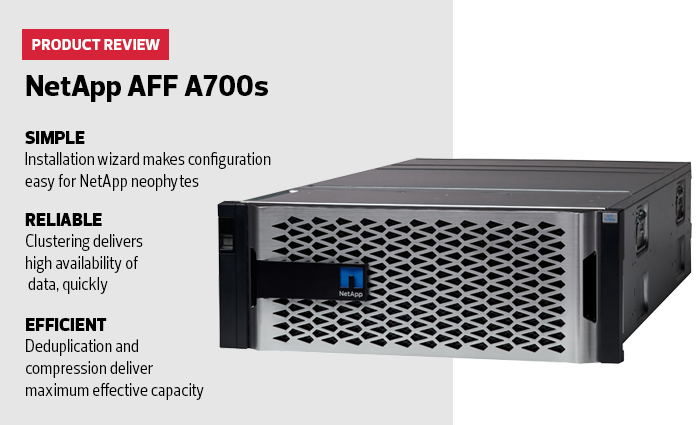 A clustered system adds both resiliency and performance: The failure of any one node will not result in downtime, and performance increases with each node.
The AFF A700s Offers Hybrid Storage that Scales
The AFF A700s easily scales to 24 nodes to deliver fault-tolerant, high-performance and high-capacity storage that can be administered from a single dashboard.
When demand calls for even more storage, the system adds cloud capacity from multiple vendors as well as legacy hard drive-based storage systems in the data center.
ONTAP data management software can automatically move data between tiers to maximize performance for the most active data. (Data that hasn't been used for a while can be moved to a less expensive storage tier.) The software also migrates data to keep it with the server instance that needs it.
As workloads move from one virtual machine to another on a server in the data center or in the cloud, keeping the data with the app becomes more complex. NetApp's software simplifies that process, allowing a new snapshot of the existing data to be created for a new version of the app, or for the existing data to migrate from one storage volume to another.
Within a system where an app may need to shift from one data center to another, such flexibility becomes even more important.
The NetApp AFF A700s
Max Drives: 24 SSDs
Max Capacity: 39PB
Max IP Routes: 20,000 IPv4; 6,000 IPv6
Rack-Mount Size: 4U
Ports: 8 Fibre Channel, 12 40GbE, 24 10GbE, 8 SAS
Storage Networking: FC, iSCSI, NFS, CIFS/SMB

NetApp
More On