Digital Signage Powers Katy Perry's Perfume Campaign
Retailers and advertisers can leverage the interactive capabilities of digital signage to their advantage.
If your business has been trying to think of ways to reach out and touch its customers, why not think about the opposite and let the customers do all the reaching out and touching?
Last December, pop star Katy Perry took to The Grove shopping resort in Los Angeles for the launch of her celebrity perfume Meow!. While the "California Gurl's" presence whipped up the crowd with her star power, the party kept going after she left as shoppers and fans were able to interact with a unique pod that took advantage of digital signage and provided an engaging customer experience.
Grove shoppers were able to take pictures of themselves with the pod and create virtual "ornaments" that they could see hanging from Katy Perry's virtual Christmas tree. They also had the option of e-mailing their virtual ornament, allowing them to share the campaign with friends and family through social media.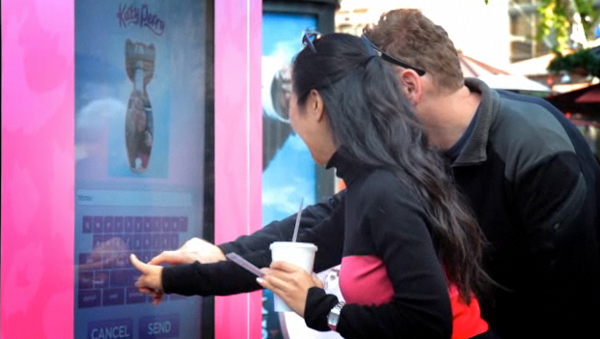 Digital Signage Connection released results of the campaign (below) from Monster Media, the creators of the digital storefront pod. Also, check out this video of the campaign in action on Monster Media's site.
The campaign yielded positive results during its duration. In one week, analytics from Monster Media recorded 2,836 activations and 5,134 photos taken. More than 2,200 photos were saved and the campaign gathered 1,766 email addresses.

"Due to the high-end nature of The Grove, media placements aren't always easy, but this one stood out," said John Payne, president of Monster Media, Orlando, Fla. "The Katy Perry campaign is a great example of the cross channel combination of digital signage, interactivity and email marketing in a high-end retail setting."
For more information on the Katy Perry digital signage campaign, read more at Digital Signage Connection.
Screenshot via Monster Media video
More On