Till Data Do Us Part: How Wedding Photographers Handle All That Storage
George Street Photo & Video is able to meet memory-saving demands thanks to high-speed networking and virtualization.
"Since we were kids, we were shooting movies, playing with cameras and playing with computers," recalls Tim Muller, CEO of George Street Photo & Video.
"I remember a funny story: One of my partners was really into the Internet before the Internet was really anything. We were on a bus going on a field trip, and he had brought the 'yellow pages' of the World Wide Web. I am not kidding. He was telling me that the next day, this new thing called the web was going to start, and saying, 'Here is all the stuff that is going to be on it.' "
In hindsight, that ream of paper heralding the birth of the web surely must have been an omen of the vast data stores that Muller would surround himself with at George Street Photo & Video.
It's now seven years since Muller and two friends began the wedding photography and videography business in a small apartment on George Street, on the fringes of Chicago proper. Today, from a spacious loft downtown, the company serves five U.S. markets and relies on a virtualized data management and storage environment that can house up to 64 terabytes of data.
A Moment Like This
By its nature, a wedding photography and videography business is data-intensive. A typical George Street wedding shoot includes 1,000 to 1,400 images at 16 megabytes a click. Videos suck up capacity quickly, at just less than 80 gigabytes apiece. Last year, George Street shot more than 1,000 weddings, and it's on pace to shoot more this year. That's a lot of bliss — and a lot of data.
Adopting and adapting technology to create a profitable business that simultaneously thrills customers during what's supposed to be one of life's happiest moments has always motivated the George Street team, Muller says.
"When we look at how we can create efficiencies across the company, we ask ourselves, 'How can we use technology to make us a quicker, faster, better company?' " Muller says. "Technology allows us to do things faster and quicker, which lowers our costs, and we can then pass that on to our customers to continue to deliver an amazing experience. That's kind of the name of the game with technology."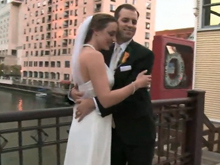 Thanks for the Memories: Watch the BizTech video, "Data + Storage: A Love Story," to see firsthand the lengths to which George Street Photo & Video goes to protect its clients' wedding imagery against loss.
For George Street, the deployment of a speedy virtualized environment took place late last summer in tandem with its move (the company's third) to the loft in Chicago's River North district.
George Street has always focused on single points of failure and assuring that it could store its image files for safekeeping, Muller says, but "there was a strong need to centralize our data management and speed up our network."
Creating a cloud-like environment built around VMware ESX and a Promise VTrak RAID storage area network — and migrating to that new environment as part of its relocation — made sense, he says.
Although the upfront cost was initially daunting, Muller says the company expects to begin seeing a return on investment late this year. To justify the investment, he looked at production time spent on each shoot relative to the time that could be saved by moving to a faster processing environment.
"Virtualization has really allowed us to ramp up services and management," says Christopher Burnett, the company's IT director.
George Street supports a mixed PC and Mac environment. The company relies on HP ProLiant servers and ProBook notebooks for its business management and administrative needs. For creative work and to process image and video files, it has a half-dozen eight-core Mac Pros with upwards of 16GB of RAM each — described by Muller as "smoking fast" — along with a couple of quad-core Mac Pros and 16 iMacs.
Forever and For Always
Another critical component at George Street is a fiber-optic network that takes advantage of link aggregation to let users access and share large image files speedily.
"All this technology would be pretty pointless if we weren't achieving gigabit speeds," Burnett says. "It really prevents bottlenecks in the network. With link aggregation, we are running at double the speeds we would otherwise be able to achieve."
A souped-up eight-core Mac Pro server and a pair of HP ProCurve Gigabit Ethernet switches support the link aggregation. For the photo and video editors, this means that changes to images render immediately, says Hannah Goering, George Street's photo post-production manager.
"We definitely are able to deliver the same quality to the clients even though the number of photos is increasing," she says. "We are able to add more creativity and personal touches while maintaining the same cost."
Now, with its fully virtual infrastructure in place, George Street will also be able to continue adding clients as time goes on, Muller says. "For us, expanding our use of technology will always be about streamlining processes so that we can be more creative and deliver amazing memories to our clients."
George Street Photo & Video: A Snapshot
Serves brides and grooms in five Midwestern markets from studios in Illinois, Indiana and Texas (and soon, Georgia)
Shoots 1,000-plus weddings a year
Taps a cadre of 75 photographers
Captures 1,200 or more 16MB images per event
Uses LaCie solid-state drives to upload files to the network, eliminating three days in production time previously attributable to burning images to disk
Maintains 64TB of storage capacity on a pair of Promise VTrak RAID storage area networks — one at the main studio in Chicago and another at a disaster recovery site at a remote studio location
Link Aggregation: How It Works
Multiple physical switch ports may be grouped into a logical point-to-point link, known as a link aggregation group. A LAG provides increased bandwidth and link redundancy. If one link in the LAG fails, the system automatically redirects traffic across the remaining links.
Up to eight ports may be included within a LAG in a virtual chassis configuration. Ports may be distributed across the fixed or uplink ports of any members. A virtual chassis configuration can support up to 64 LAGs.
SOURCE: "Virtual Chassis Technology Best Practices," Juniper Networks (2010)
James Schnepf