NFL Pushes the Boundaries of Football with Emerging Technology
Whistling footballs, robot tackling dummies and virtual reality experiences aren't just in the imaginations of fans — they're real and they're here.
Grainy, slow-motion video of yesterday's football heroes, such as Bears running back Walter Payton bulldozing over linebackers along with dramatic music and a baritone-voiced narrator, are the way that many football fans grew up watching and reliving the game day experience.
But now, NFL Films is eager to radically transform how gridiron fans experience the game — with the help of virtual reality (VR).
In November, NFL Films began producing VR game highlights and partnering with Google to create a nine-episode VR series on how players, coaches, executives, cheerleaders and fans prepare for games. Fans can view the content with VR headsets.
"NFL Films is really good at telling stories about football, and virtual reality and technology allow them to tell that story in a much more immersive way," says William Deng, the NFL's director of media strategy and business development.
The NFL and its teams invest heavily in technology to improve the game experience for fans, but also to gain a competitive edge on game day. Technology such as mobile apps for fans, stadium Wi-Fi, and tablets/digital playbooks for coaches and players have become fairly commonplace. But the league is also pushing the boundaries of what people previously thought possible.
This year, for example, the Pittsburgh Steelers and other teams have experimented with remote-controlled tackling dummies during practices, while the Dallas Cowboys and other teams have begun using whistling footballs to teach players not to fumble.
The NFL is also making further use of wearable technology and data analytics to evaluate its players. And more recently, the NFL's announcements of showing game highlights and producing shows in virtual reality proves that the futuristic fan experience – such as watching live games on virtual reality – may be closer than fans think.
Emerging Tech: VR | Robot Tackling Dummies | Whistling Football | Next Gen Analytics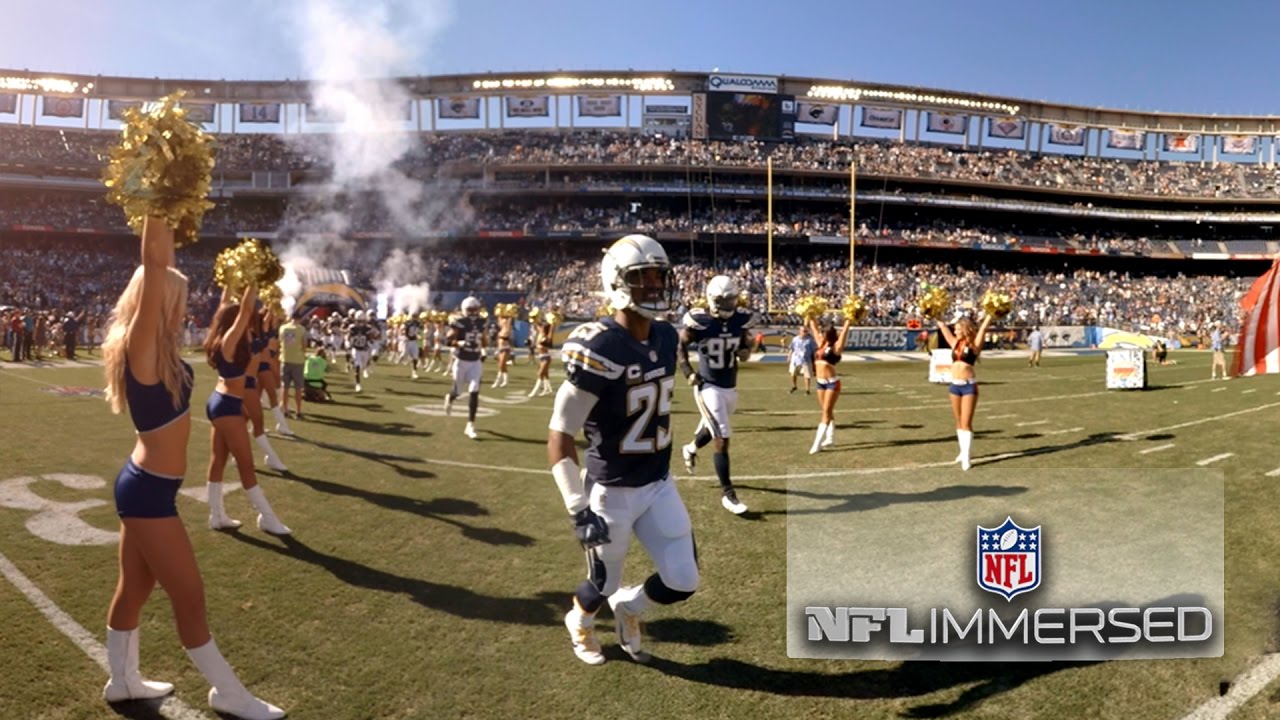 NFL Films' nine-part VR series is currently on its third episode and includes a behind-the-scenes look at Philadelphia Eagles players and Miami Dolphins cheerleaders.
Each episode, shot using Google's 360-degree camera and capture system, is eight to 10 minutes long, is available on the NFL's YouTube channel, and will be featured on the league's forthcoming mobile VR app.
"Fans can experience the players' perspective, from inside the locker room, the film room [and] the practice field, as they prepare for the ultimate moment on Sunday," Deng says.
NFL Films also partnered with NextVR to produce postgame highlights from three games in November. It's also collaborating with Voke to produce in-game and postgame highlights for four games in December and January.
Deng says the NFL wants to establish a presence in the emerging VR platform, so it's in position to develop the best content possible when the technology reaches mass adoption. The NFL's goal is to experiment and learn what works and what doesn't, he says.
"Whether it's on TV, digital or emerging platforms like virtual reality, we at the NFL are good at aggregating an audience. Platforms that have the potential to scale and engage fans in new ways is interesting to us," he says. "So we see virtual reality as having the potential to be that type of platform. And for us, it's to get ahead of the curve, both in establishing a presence, learning about consumer behavior and developing expertise internally."
Deng says the NFL will consider showing live games in VR in the future in order to create a premium experience where fans can pay to watch a game as if they're sitting in a stadium seat. It would have to provide added value to fans that already get a superior TV experience, he says.
A live VR game experience could serve fans in the U.S. and across the world who can't easily attend games. "Wouldn't it be great for them to experience a game as if they were there?" Deng says.
From the NFL's perspective, the VR technology needs to continue to improve. It's something the league will continue to assess and test, he says.
"The technology is evolving pretty rapidly," he says. "There's a lot of innovation to be done, from the resolution of the screens to the comfort level of the headsets to the navigation experience. All of these things will come together to improve that experience exponentially over the next few years."
VR isn't just for fan entertainment. Football teams have begun using VR to improve player performance by simulating practice and game situations. The league itself is in the early phases of developing VR training materials for referees, says NFL CIO Michelle McKenna-Doyle.
Like teams, the NFL can simulate game situations and allow referees to practice officiating and decision-making, such as what constitutes a catch by a receiver and whether to call a penalty for illegal hits, she says.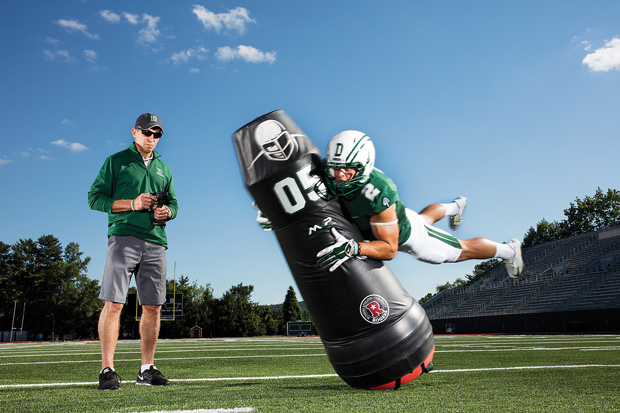 Eight NFL teams, including the Steelers, Carolina Panthers, Los Angeles Rams and Oakland Raiders, currently use remote-controlled dummies for practices.
The battery-powered dummies are 180 pounds, encased in heavy-duty foam rubber and can move up and down the field. They can stop and make cuts as if they are wide receivers or defensive backs, says Quinn Connell, director of engineering at Mobile Virtual Player (MVP), the company that created the devices.
During practice, coaches can have a dummy act as a quarterback and allow linemen to tackle it. A dummy can also serve as a defensive back, allowing a wide receiver to run his routes around it, he says.
"It's been used by every position on the field," Connell says. "It's highly effective for drills and keeps players' legs fresh."
The technology also helps reduce injuries because players can practice tackling without actually hitting another player.
Steelers Coach Mike Tomlin was impressed with the technology.
"The applications we are quickly finding are endless," Tomlin told Steelers.com in May. "It never gets tired. It runs at appropriate football speed. All of the position groups are getting an opportunity to use it. It's funny, you just put it on the field and watch the guys and they show you the applications. It's been fun watching that."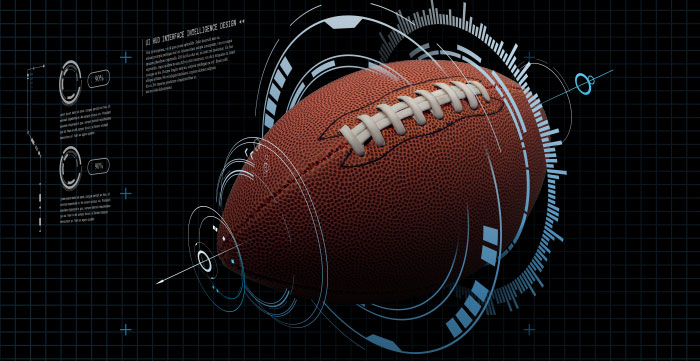 In an attempt to teach players to properly hold footballs and reduce fumbles, eight NFL teams – including the Cowboys, Chicago Bears, Indianapolis Colts and New Orleans Saints – have begun using specialized whistling footballs this year.
The HIGHandTIGHT ball is built with pressure sensors. If players press on all the sensors, they are holding the ball securely and the ball in turn produces a steady constant whistle. But if they hold the ball incorrectly, it makes no noise or whistles intermittently, says Tom Creguer, CEO of Your Future Sport and inventor of the ball.
"It teaches muscle memory to keep the ball to your body. It creates the habit of thinking about ball positioning first rather than running fast and avoiding guys," he says.
The Cowboys used the technology during rookie minicamp preseason practices this year – and the coaches and players raved about it.
"When you have the football in the perfect position with all the points covered and tight to your body, it sings to you," Cowboys rookie running back Ezekiel Elliott told ESPN in May. "When it stops singing, you know you're doing something wrong. So you want to make sure it's singing the whole time."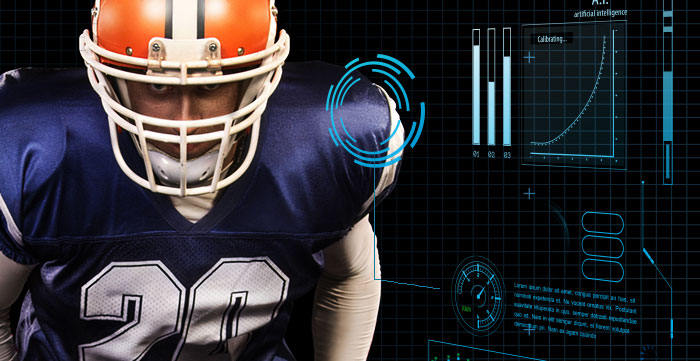 In 2014, the NFL partnered with Zebra Technologies to put two radio frequency identification (RFID) tags in players' shoulder pads to provide real-time statistics, such as speed, acceleration, total distance run and distance between players.
For the first two years, the data was made available on media platforms, such as NFL.com and on TV broadcasts. But this year, the NFL is making the player-tracking data, called Next Gen Stats, available to teams the day after each game, which helps teams evaluate their own players, says Jill Stelfox, Zebra Technologies' vice president and general manager of location solutions.
The data can assist teams with strategy or monitoring player health.
"While teams do not have access to opposing teams' data, coaches can use their players' data to assess different elements of the game," she says. "For example, by knowing the distance an athlete traveled and the speed at which they were running, a coach can determine how hard a player was working, and if that athlete will require additional recovery during practice."
As part of the next phase of the league's Next Gen Stats player-tracking project, the NFL this year collaborated with Zebra Technologies and Wilson Sporting Goods to install an RFID tag on footballs for preseason and Thursday Night regular season games. The technology collects data on how far the ball travels on a play and the ball's proximity to goal posts on field goal or extra-point attempts.
The statistics from the footballs could be used in the future on NFL.com and during TV broadcasts of football games, Stelfox says.
Masisyan/wildpixel/Thinkstock; Mobile Virtual Player